Archival Legacies: THAT WHICH WE WERE GIVEN at The Next Contemporary
27 October 2023
By Ignazio Colt Nicastro
Masked in the dramatic shadows of the dim, ivory gallery space, THAT WHICH WE WERE GIVEN was a luminary exhibition that spotlights the ongoing processes of displacement and dispossession within Black communities. As The Next Contemporary's second exhibition, the Toronto gallery's group show furthers themes that are prevalent to director Farnoosh Talaee's curatorial framework: elevating BIPOC and historically marginalized voices while exploring stories of migration and memory. The collective works by artists Anique Jordan, Kosisochukwu Nnebe, and Mallory Lowe Mpoka delve into nostalgic recalling, archival navigation, colonial disruptions, and somatic relationships that carve space into history for their stories.
Streams of light pour over Kosisochukwu Nnebe's bronze sculptures, the Anyị Hapụrụ (Future Ancestor) (2023), which rest heavily on two neighbouring plinths. These enlarged hair accessories are cast using the lost-wax technique, a historic method used in Benin, West Africa. Dating back to the ninth century, the Benin bronze artefacts were used to fill burial chambers with historic plaques, commemorative busts, and personal ornaments. As history selectively omits the experiences of Black people, Nnebe reclaims agency over her legacy by preparing her own "burial chamber" with objects of significance that will be preserved for generations. Childhood portraits of Nnebe, placed between the sculptures and at the gallery entrance, provide a glimpse into the true scale of the accessories. The photos come from her family albums spanning Nigeria and Canada, and while the exact location of each photo isn't clear, they do reveal the constant presence of the hair accessories throughout Nnebe's life. By converting these small objects into bronze relics, Nnebe imbues them with a newfound importance and power. This transformation turns the accessories into anchors, not only due to their physical weight, but because of the importance and value they hold.The work becomes a monumental form preserving Nnebe's history which can now be passed on for generations to come.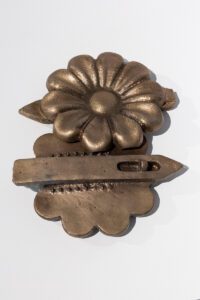 Adjacent to Nnebe's bronze sculptures is Mallory Lowe Mpoka's installation, The Matriarch (Unravelled Threads) (2021-2023), which Talaee considers the starting point of the exhibition. Suspended from the ceiling and bathed in light, Mpoka presents a carousel of archival portraits that bridge her Cameroonian past with the present. Photographic archives serve as a means to traverse time, capturing moments lost to history preserved in film or paper. As we saw with Nnebe's childhood photos, these archives are a universal undertaking; people from all walks of life are likely to find storage containers of old family albums stuffed with childhood trips and celebrations. While some of us have this shared experience, it raises the question of who has access to history, both personal and political, and how these histories are distributed or passed down. Mpoka sourced these photos that are now printed and preserved on over 120 recycled linen and cotton sheets from her family's sewing workshop in Douala. Each sheet carries a photo transfer of Mpoka's lineage, including images of her ancestors and herself. Upon closer inspection, the installation serves as an exploration of therapeutic labour, which is evident in the dyeing and stitching of the sheets. Hand-dyed on Cameroonian soil, the sheets bear a rich burnt umber or tan tone that permeates the exhibition's earthy atmosphere. The soil, a highly fertile red ferralitic soil which acts as a source of life for West Cameroonian forests and agriculture, now nourishes Mpoka's ancestral carousel, symbolizing the legacy of her family. This is furthered by the intensive, repetitive hand sewing of each sheet. As Mpoka's family consists largely of manufacturers and sewers, The Matriarch (Unravelled Threads) is a homage that will become a testament to time and their legacy.
Similar to the blooming light from within The Matriarch, two lightboxes by Anique Jordan offer a warmth to the exhibition. Tucked away in the dim corner of the gallery, Jordan's two illuminating works showcase the overlaid shadows and movements of a human figure, specifically a Black figure. The duology of these works provide a glimpse into Jordan's MFA thesis project, To Score the Marvellous (2023), which received the TFVA artist prize in 2020. While navigating upheaval in the art community, the disproportionate targeting of Black bodies by the police, a global pandemic, and the on-going climate crisis, Jordan sought to create a body of work that polarized these disarrayed conditions. The figures in the works are overlaid with additional photographs from this performance, all encased in plexiglass, while their various performed gestures evoke a somatic bonding with the viewer's body. Observing the work itself becomes an act of choreography as viewers shift from left to right, to up and down, catching the many angles of this work, drawing inspiration from Jordan's own memories, creating a new vocabulary and code for the viewer that is derivative from the artist's body. This new, embodied mode of viewing becomes a study of linguistics, wherein a new language develops through time and space to record Jordan's life experiences.
Collectively, THAT WHICH WE WERE GIVEN presents a future that memorializes Blackness in a way history has not. The artists remind audiences of the importance in reclaiming agency, preserving personal histories, and addressing issues of representation and access to history. Despite the absence of light in the gallery space, the exhibition stands as a beacon of progress, shedding light on the prominence of archiving intersecting stories while advocating for inclusion of under-represented voices in spaces that have historically marginalized them.
THAT WHICH WE WERE GIVEN ran from May 6 – July 1, 2023 at The Next Contemporary in Toronto, ON.
Feature Image: To Score the Marvelous/Notes A, and Notes B, 2022 by Anique Jordan. Photo by Alison Postma courtesy of The Next Contemporary.