Honouring the Trees in Reitzenstein's FML (forests may lie)
11 July 2022
By William Brereton
After a few deep breaths, I took many strolls among the mysterious yet beautiful installation works of Reitzenstein (the artist formerly known as Reinhard Reitzenstein) in FML (forests may lie) at Olga Korper Gallery in Toronto. The exhibition showcased a survey of the artist's latest sculptural and photographic works that have signified his long-standing investigations into the environment and environmental degradation. For those who may have sought a critical yet playful experience in nature, Reitzenstein's latest presentation seamlessly offered interpretive and high-spirited vantage points from which to experience the works, as many of us tried to find reprieve during the early months of the global pandemic. As some museums and galleries in Ontario briefly reopened in Fall 2020, this exhibition affirmed the need to experience art in person and perhaps encouraged us to go on an introspective journey. With a direct focus on our geographic surroundings, the exhibition especially paid homage to the artist's direct engagement with trees native to, and the communities that reside within, the Golden Horseshoe region of Southern Ontario.
FML gave particular emphasis to trees as solitary performers within our midst. As Shirley Madill noted in her exhibition text from the artist's earlier solo show at the Art Gallery of Hamilton in 2002: "Rather than rest on traditional depictions of landscape and a removed landscape, Reitzenstein prefers the strategy of integration, fusing ideas into work that reflects ecological, social, and political concerns."1 Serving as the main centerpiece at Olga Korper was a thirty-foot installation titled, We All Felt That (2020), which consisted of large pieces of maple tree wrapped in wool felt,2 and was made in collaboration with community members from the Hamilton region during his residency at the AGH from 2019-2020. As a crucial component of his time in residence, the AGH team hosted various local community groups representing distinct, culturally rich backgrounds in the gallery space, in order for all to directly contribute and interact with the artistic production of We All Felt That.
By working on wetting a chosen piece of felt and applying it to cut sections of the maple tree trunk, this participatory activity became a shared therapeutic act, as many participants openly identified with experiencing trauma and mental health challenges. Each cut section encouraged an individual to express their agency by selecting and applying their preferred colour of felt. In other words, the creative process invited all participants to make their segment as it suited them. As the artist did not overtly influence its output, the experience affirmed collective autonomy and individual expression. With the pieces of felt ranging from subtle to vibrant hues, the installation retained a dynamic and boisterous appearance in contrast to the cool industrial vibe of Olga Korper's converted warehouse.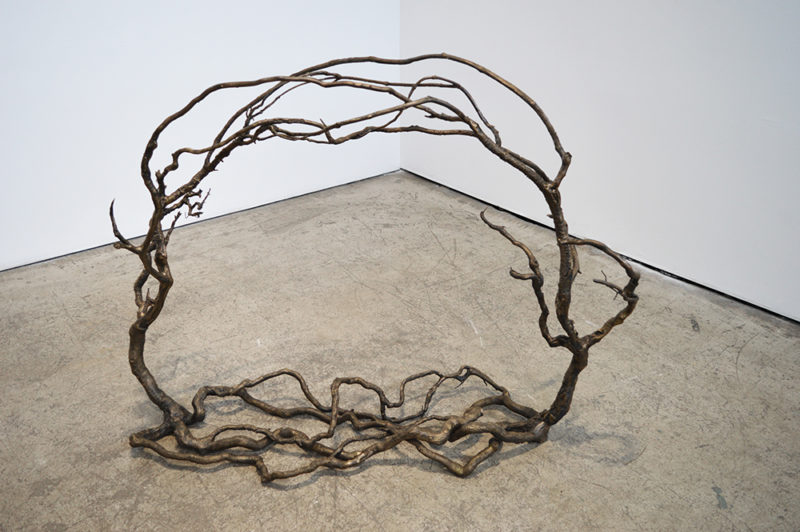 Suspended in mid-air with the assistance of steel beams and wires, the floating maple tree parts lured the viewer in with eye-popping bait. While describing one's spectatorship of Reitzenstein's oeuvre, Madill writes: "There is a moment of dissolution where the viewer cannot merely look, the spectator cannot remain inert and detached, for [one] becomes implicated in the work, suspended as both observer and participant, caught in a prolonged moment."3 As the pieces dangled and created a shadow on the ground of the exhibition, there seemed something eerily lifelike in how they appeared as though in a static march or procession. Indeed, we were all caught in a prolonged moment. The diversity of the surface colours in the installation not only indicated the contributors' myriad approaches to creating its final product, but also affirmed the strength and interconnectedness of a shared community voice. One could perhaps appreciate We All Felt That as an unofficial monument to the lived experiences of those who call the Golden Horseshoe home.
During a conversation with Reitzenstein on Zoom, he shared his deep-seated personal connection with trees. Born in Northern Germany, his family planted a tree for him at age six, just before they immigrated to Canada in the mid-1950s. Emphasizing a shared feeling of displacement, the artist's work also captured one's separation and extraction from their roots as a potent visual metaphor. In What Should I Call This Piece? (2019), Reitzenstein produced a bronze cast of bare tree limbs that formed an unkempt loop. Dangling and unruly, the work's materiality further emphasized its sense of lifelessness. A memento mori of sorts, the artist's sculptures indicated a sense of neglect and abandonment, and as a poignant reminder of environmental harm, FML also expanded our ecological frame of reference beyond its domain.
Juxtaposing Reitzenstein's bronze sculptures alongside his panoptic photographs, the gallery paired Never Odd or Even (2020), a tall, disheveled bronze cast of a tree, with I Looked At Clouds (2020), a panoptic image of Newfoundland's coast emphasizing a distant sun with another of the artist's sculptures as the focal point in the foreground. Oscillating between 2- and 3-dimensional scales, the visual echo between these two works triggered an internal reflection on displacement and feelings of being an outsider. For instance, while observing the exposed roots in Never Odd or Even, the inner tension that stems from not feeling a sense of belonging with one's current surroundings could not be more jarring. Certainly evoking empathy from myself as a viewer, Reitzenstein's art confronted human impact on the land by giving dignity to the standing tree, which otherwise suffered a dejected fate.

In general, Reitzenstein's works conjure a meditative approach to one's connection with geography. Derek Knight, who also contributed an essay to the original 2002 exhibition catalogue, notes that "Reitzenstein's relationship with nature is informed by a sensibility influenced by the [Indigenous] principle of stewardship, based on preserving the sacred trust bequeathed from one generation to the next. Thus, in this context, if the tree is a symbol of continuity, it is the embodiment of cultural memory and place too."4 Encouraging me to appreciate the sensitivity and esteem the artist felt towards our environment, and the trees that play a pivotal role in our ecosystem, it was difficult to dismiss the sense of catharsis and level of respect that his works in the exhibition offered to viewers. Despite the exacerbated feeling of isolation that this current pandemic has inflicted upon us all, this exhibition subtly implied that we would always be connected to something beyond ourselves as individuals.
FML also presented two other panoptic photographs, This is Celeste and Between Black or White (both 2020), both of which captured a section of Lake Ontario's vast shoreline from the Canadian side of the border. The images immediately triggered my memories of numerous walks along Lake Ontario, connecting me back to my own desire to appreciate the peace of being there again. Both of the waterfront landscapes presented a lone tree as the central actor—a recurring theme that bridged the works together throughout the cohesive exhibition. Swaying between natural and synthetic modes of representing the environment, Reitzenstein effectively conveyed our shared geography through his practice while encouraging us to recognize the interconnectedness between trees and human experience.
As I looked back at We All Felt That before leaving the gallery, the therapeutic motivations behind the work's production could not be understated. Knowing that multiple individuals contributed to the project demonstrated a democratic and inclusive approach to connecting with the places we inhabit. A silent performance of tree and plant actors, FML offered a respite from the mundanity of our current (and ongoing) predicament. The exhibition encapsulated something wholesome around us, especially as we, those who encountered it, took a moment to honour the trees—and those sharing the space among us.
Shirley Madill, "The Soul of the Landscape," in Reinhard Reitzenstein: Escarpment, Valley, Desert (Hamilton: Art Gallery of Hamilton, 2002), 12.
Aldershot Landscaping donated, power-washed and section cut a maple tree from the surrounding region for Reitzenstein's residency at the AGH. While the specific cause of the tree's removal seemed unclear, the reasons could have ranged from conservation of the region's biodiversity and issues with disease, to required removal for land development in the Greater Hamilton Area.
Madill, "The Soul of the Landscape," 15.
Derek Knight, "Heart, Limb and Soul," in Reinhard Reitzenstein: Escarpment, Valley, Desert (Hamilton: Art Gallery of Hamilton, 2002), 21.
FML (forests may lie) ran from September 12 – October 10, 2020 at Olga Korper Gallery in Toronto, ON.
Feature Image: We All Felt That, 2019-2020 by Reinhard Reitzenstein. Photo courtesy of the artist and Olga Korper Gallery.