Justin Aranha's A Night To Remember at Gallery 44
8 November 2022
By Maria Kanellopoulos
Toronto-based photographer Justin Aranha's first solo exhibition at Gallery 44's Member's Gallery transported us to the early summer of our senior high school year. In June 2018 and 2019, Aranha photographed graduating students of his alma mater, St. Joan of Arc CSS (formerly Jean Vanier CCS) in Scarborough, Ontario. A Night to Remember included dozens of undirected snapshots of prom-goers: couples, individuals and groups of friends. The interactions with his sitters were brief, lasting a few minutes in his paper-backdrop photo booth set up in the prom banquet hall, but the impressions the students made on him and his viewers will last a lifetime. The artist was recently chosen by The British Journal of Photography for their 2022 Ones to Watch list,1 the journal's annual selection of emerging image-makers. Aranha's simple yet disarming photography centres around portraits that capture fleeting moments of joy, courage, laughter, love, desire, angst, and beyond.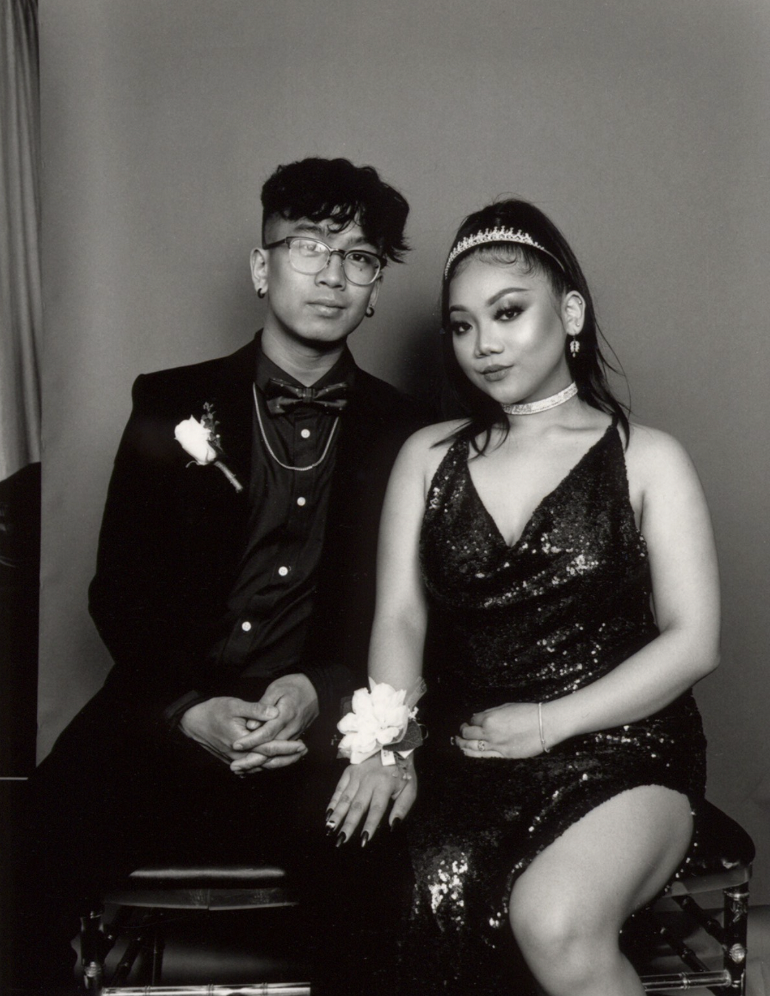 A Night to Remember presents portraits of a transient age: neither of children nor of adults. Pictured above, a couple returns a provocative gaze to the camera, as their simple gestures–a slightly tilted head towards one another, one's touch on the other's knee, and clasped hands–signal confidence in their place together and their place in life. It is a comforting confidence to witness in young adults ready to take on the future. Aranha's subjects are of an age at an epicenter of development of ideologies and beliefs and the realization that the people who surround us have, and will, shape us.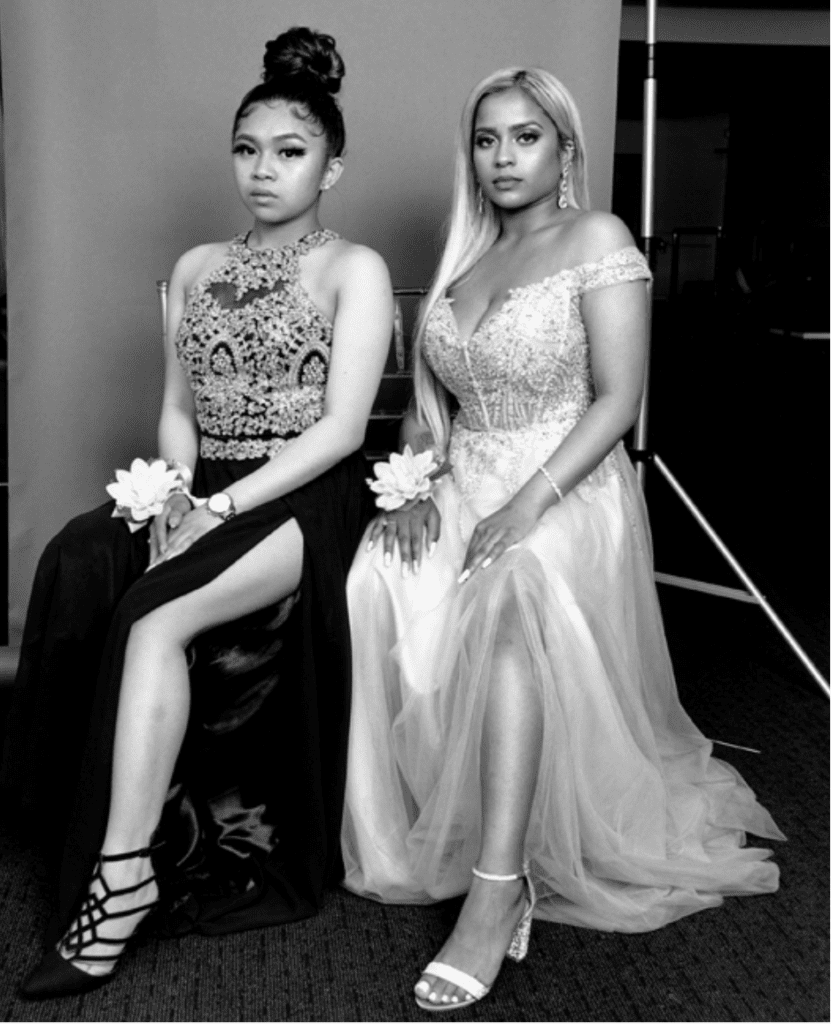 The portraits ask us to recall our own high school experiences, however difficult, painful or awkward they might be. Above, two friends' with mirroring outfits pose and their collective gaze immediately signal a united front. It's not a far stretch to imagine them strutting down the halls of school, their gait in unison, carving out a slim path among peers as their eyes signal their next move. Are they best friends or at the brink of never speaking again? Aranha and his sitters allow the viewer to determine the outcome. Often, we leave high school shedding parts of ourselves that became painful or unfamiliar in the transitory four years. Is the best part about our departure knowing what we leave behind? Or the trove of memories that we recall at will, as we enter into the next stage of life, trying to retain the parts of ourselves that will continue to guide our journey?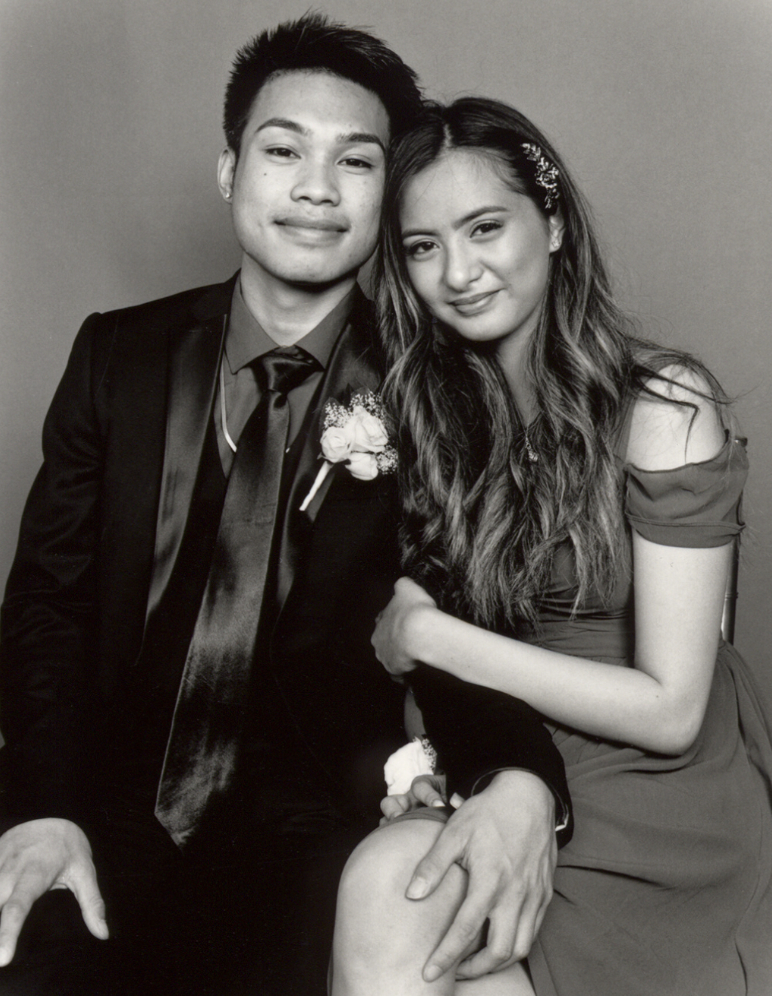 The students in Aranha's pictures are active in shaping and sharing a specific view of themselves at this particular moment of their lives. The couple pictured above share an embrace, barely containing their excitement for the photo to be taken and the night to come. Their heads meet in the center of the frame, and the young woman's flowing hair leads the viewer's sight line down towards their crossing, intertwined limbs to finally pause at his hand gently gripped on her bare knee. His white corsage on black suit becomes a focal point at the centre of the frame, illuminating two honest and joyful expressions. Aranha poignantly captures his sitters, themselves forecasting the intimate connection between subject and future viewer. The artist considers and communicates the subjects' role in making a photograph: the subject understands their looking towards the camera, in anticipation and response to the way the viewer will later be looking at them.
In a recent conversation I had with Aranha, he shared this insight: "My approach to a session doesn't really change depending on whether I know the sitter or not… I like that the context of taking a photo gives the sitter and I a common goal." Likewise, each sitter shares or hides as much of themselves as they desire. This delicate balance of anonymity discloses an awareness to the act of looking, that in turn asks viewers to internalize the subjects' position. In these portraits we see the students, but we also see ourselves.
Aranha's technical skill has grown throughout his career to boast a precision and capacity to capture and communicate a multitude of senses: the smell of cologne, the sound of laughter, the feeling of a sequin dress rubbing on skin. Largely devoted to photochemical shooting and processing, Aranha is inspired by twentieth century photographers like Dawoud Bey and Helmut Newton. Bey was committed to photographing his community as social practice, and has largely guided Aranha's work that is similarly charged with a careful eye that communicates the individuality of subjects so delicately, as to suggest a long-standing familiarity and trust.
In the portrait pictured above, the sitters welcome Aranha into their inner circle, effortlessly sharing intimate and honest gestures and emotions. Aranha's practice centres around visiting communal spaces and connecting to youth from local communities. The artist focuses on sites that are integral to formative years of life, that often carry a nostalgic pang of adolescence. In our conversation, Arahna shared: "An organic growth of my range of subjects has always been one of my favourite things about being a photographer. I've always loved the idea of a photographer being known to his community as a service." His fashion photography practice presents a renewed visual sensibility around beauty and the body, straddling art and fashion. Moving away from the traditional beauty standards of sartorial photography, Aranha draws inspiration from Newton's unconventional photo scenes, while the artist's subjects mesmerize the viewer with their confidence and poise.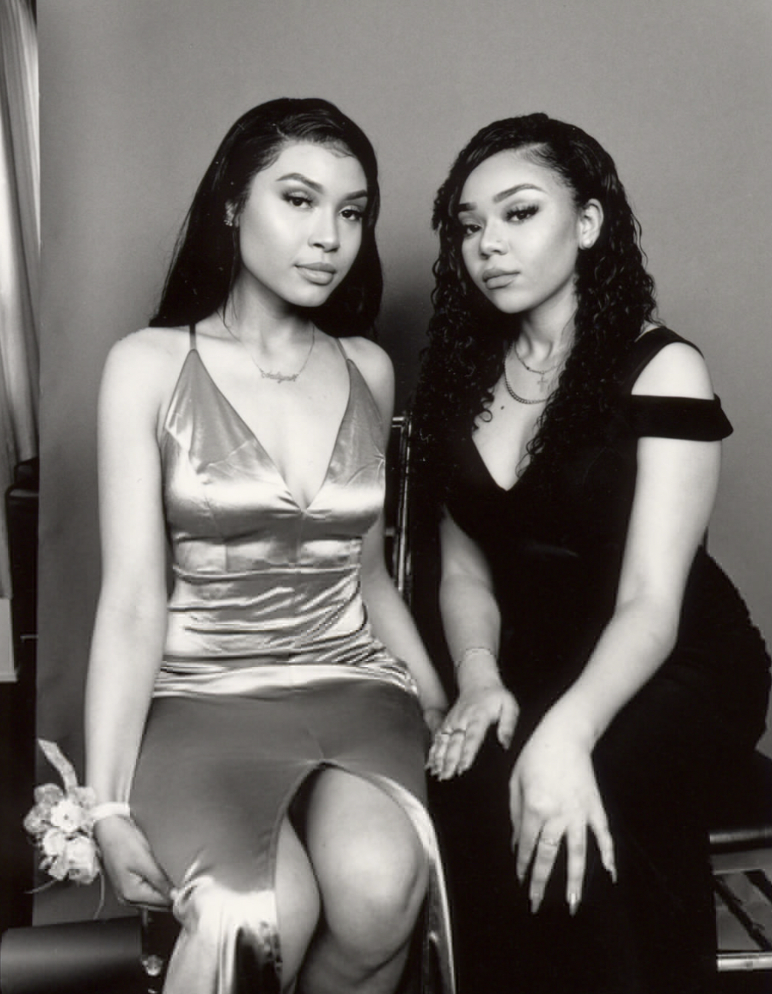 Similar to any millennial graduate, Aranha's sitters likely have endless digital reels of portraits of themselves and their friends on their devices, both of their best moments, and probably their worst. In this photo session, and in his broader practice, Aranha offers his sitters control over how they will be seen, knowing that we cannot always control what images of ourselves are globally circulated over the Internet. As viewers, we become absorbed by the kinship read through his photography, a privileged feeling that we are allowed to share this night and its moments with the students.
A careful student of historic and contemporary photographic processes, Aranha's understanding and use of technical qualities carries his work into a creative style that foregrounds simple and honest connections to the subject with a deep appreciation of light, composition and form. The black and white portraits comprising this seriesare 4" x 5" selenium toned gelatin silver prints—a physical object that in itself signals Aranha's affection for the rich history of photography. The image of the young woman above, is reminiscent of early 19th century photographic portraits where sitters would pose for hours so their enduring image could be cherished forever. From an edition of two, the first set of A Night to Remember were gifted back to the school. When I asked him about selling these prints, he told me that he's not quite ready to part with them individually, as he has other plans for the images as a group.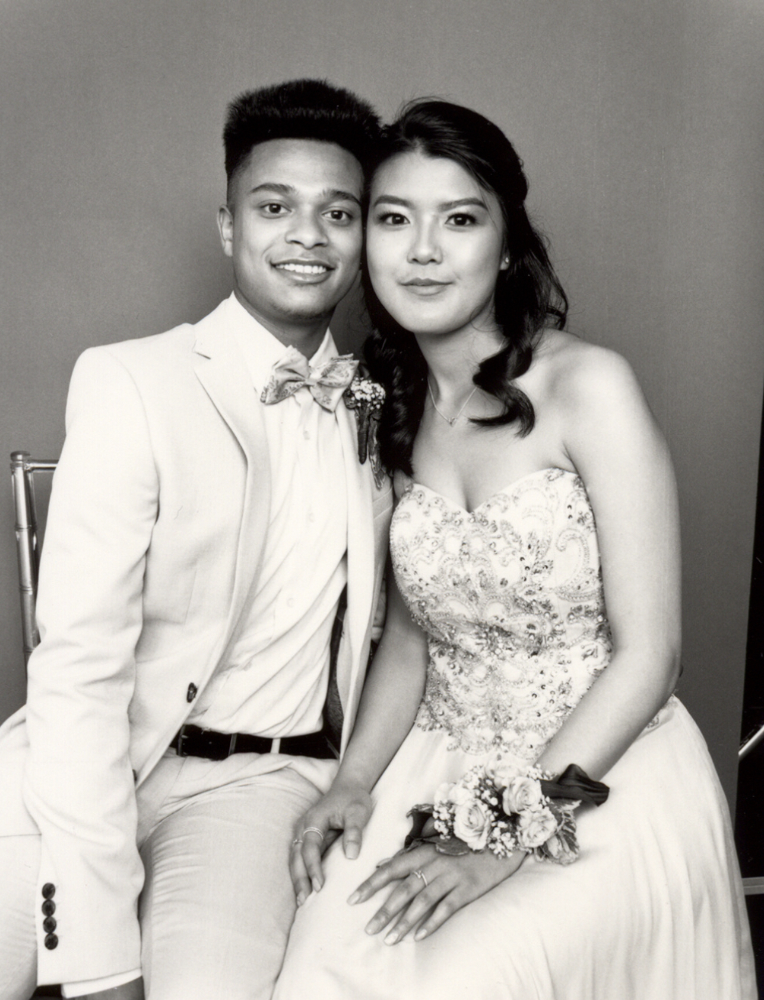 Aranha delves into the quiet places our youthful selves are developed and drawn out in those complicated yet mysterious four years of high school. Capturing a breadth of pivotal moments in a series that contributes to our collective visual memories of our own coming-of-age moment, A Night to Remember is at once a celebration and reflection of where we have been and where we are going.
From https://www.1854.Gemfletcher, "Ones to Watch Community 2022: Platation, Ismail Zaïdy, Wei Zihan and Justin Aranha," British Journal of Photography, July 15, 2022, https://www.1854.photography/2022/07/ones-to-watch-community-2022-plantation-ismail-zaidy-wei-zihan-and-justin-aranha/
A Night to Remember ran from October 5-23, 2021 at the Gallery 44 Member's Gallery in Toronto, ON.
Feature Image: Jean Vanier Prom 2019 by Justin Aranha. Photo courtesy of the artist.