Resisting Quantifiable Instruction: Lan Florence Yee's Tangerine, After Grapefruit
7 January 2023
By Marisa Kelly
The Montréal- and Toronto-based artist Lan Florence Yee is showcasing their newest series of works Tangerine, After Grapefruit in their upcoming solo exhibition, Just Short of Everything, which will be showing in January 2023 at the Pierre Léon Gallery inside Alliance Française Toronto. Their series of works Tangerine, After Grapefruit features nine different swathes of large five-by-five-foot linens, which are hand embroidered with dark blue thread. The embroidery instructions read as a kind of wry and whimsical poetry, which are partially inspired by Yoko Ono's 1964 conceptual instructional poetry book Grapefruit. Similarly to Ono's instructions, Yee's do not offer much didactic sense to the reader—their instructions are achievable, but are humourous because they aren't inherently logical, presenting as counterintuitive to our capitalistic mindset that hyper fixates on productivity and rational thinking. In this sense, the artist's instructions are anti-capitalist agents, where Yee playfully deviates from the standards of the rational and instead calls for the viewer to step into their emotions.
Resolution Piece
Find a patch of dirt that was once important to you.
Bring some home in a jar. 
Forget it in your pantry. 
Summer 2021. 
Tangerine, After Grapefruit's poetic directions are a soft call to the viewer to be observant, playful and enjoy the sentiment of each canvas. The immediate emotional responses to the language will differ from person-to-person. What does putting a jar of dirt in a cupboard mean to you? To me, it seems a compassionate action to find a once-loved memory and keep a relic (be it dirt or otherwise) somewhere in your home. Yee's directions are soft calls to action because there's no way to complete them in situ at the gallery. Instead, they are more like a choose your own adventure story and the viewer is asked to continue this practice of thinking outside of the exhibition space. "I enjoy trying to give people the agency of how they want to respond to something," Yee says to me as they describe their process of considering how viewers will interact with the instructions. "It's a call to action without expecting a response," I suggest. Yee agrees and describes their desire to encourage that willingness to reach out to others since their "work has always been primarily about processing."
The instructions are first experienced internally, and so the adventure is the viewer's to process and hold onto. As per the titles of the series, Yee has pulled inspiration from Ono's Grapefruit, however, the tangerine fruit is an important offering in Yee's Cantonese culture, as it is one way to traditionally welcome guests into their home. The tangerine has also shown up before in Yee's art, in the 2021 Design TO Festival when Yee participated in their collaborative duo, The Rice Water Collective, with Toronto-based artist Arezu Salamzadeh.1 In the project, the two artists mailed small portions of clay to relatives and friends neither one could visit due to pandemic restrictions, the intention being for everyone to share a tangerine. Once the clay was formed by friends and family, it was sent back to the artists and then fired in the kiln. The project was aptly titled Please Help Yourself (2021).2 One of the embroidered canvases, called Exchange Piece, reflects this symbolism of the tangerines:
Exchange Piece
Peel a tangerine, 
Eat the fruit while thinking of a loved one. 
Send them the leftover peels. 
Summer 2020.
Yee believes that no matter how simple Ono's instructions may seem, her instructions "will alter your life." Similarly, in Yee's work, it is the possibility of what could be if the directions are enacted; a possibility for change that can ripple outwardly and create change either relationally or through personal perspective. It's the mix of playfulness, humour, and hardship, all of which contribute to enacting change. Take for example, the playfulness and shame of Disappointment Piece:
Sigh in seven different tones (Summer 2021). 
Or the mix of both grief and wittiness of Memory Piece:
Record the sounds of your environment every time you remember to call your grandmother. Play them in the background the next time you meet in person (Spring 2020).
I feel there's a lot of sentiment and ritual in the linen embroidered canvases, especially as they sway on the dowels in Yee's studio. The intent for the chosen title, Exchange Piece, is taken from the 2021 Design TO online exhibition where Please Help Yourself first exhibited.3 In Yee's studio, I look at the ceramic tangerines which are an authentic representation of a real tangerine.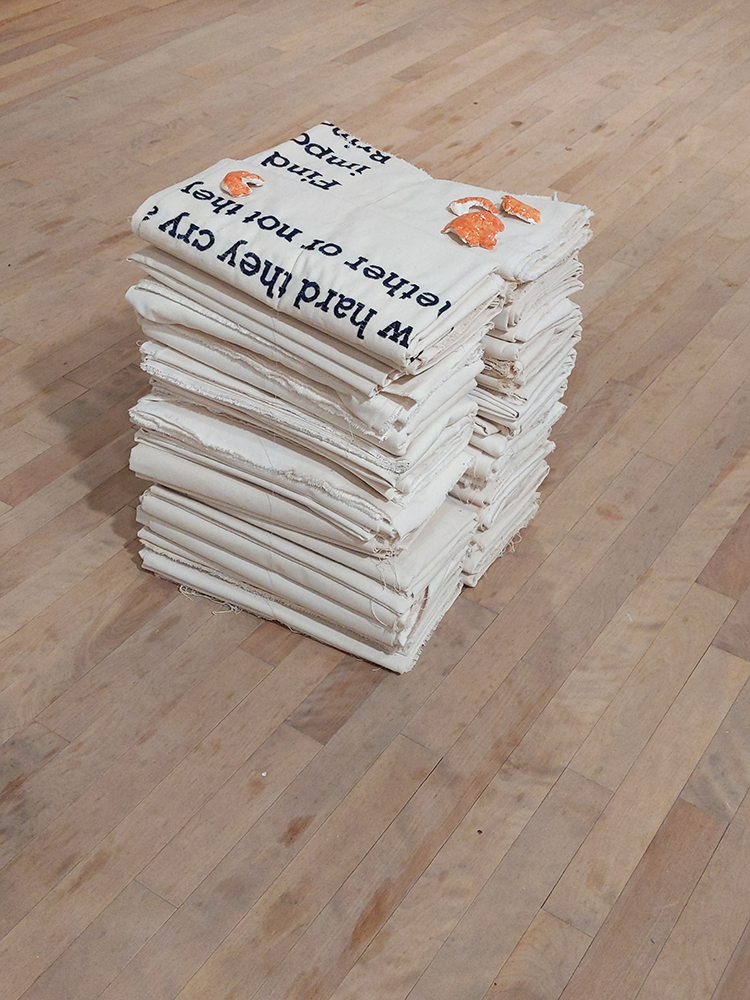 It takes tangerine trees two-to-three years to mature, a fact most of us don't know due to our increasing separation from food cultivation as a result of late-stage capitalism.4 Yee intends to place the tangerine peels in the show on top of "plinths" assembled from stacked and folded linens, of both the plain and embroidered pieces that didn't make it on display. "I feel like in a lot of diasporic Asian art practices people mention cut fruit a lot… their parents didn't outwardly say they loved them but instead they cut them fruit. I think it enables this lack of communication that's normalized in a lot of families that seem to send each other food and gifts of wellness instead of talking to each other." Yee's comment about this symbolic meaning of cut fruit makes me think about how these non-verbal gestures represent a kind of compassion and vulnerability that families aren't able to express directly; this notion of there being something more needed to give, but can't be said out loud. In this way, the concept of family has greatly influenced Tangerine, After Grapefruit as well as Yee's practice—they even look at this series of works (and others) as "family units." The imagery of the small family unit is further presented in the way the texts are formatted, like short poems, they simultaneously open the imagination and succinctly conclude ideas, but Yee also feels that there is no distinct conclusion.
I also love the idea that there is no conclusion, as it brings me back to the deep emotional- and poetic-pull I get from most of Yee's work. The instructions explore an in-between realm that is also a collective experience. The embodying of a sensation, how it feels to attempt to connect with someone, successfully or not? If I leave the dirt in the cupboard, will it be there forever? What happens next, would my grandchildren find it? Can I feel the vulnerability of the peels of a tangerine sent to my mailbox? The act of giving to another person is personal. To me, this forms as an ache in my chest that extends to emotions that fuel thoughtfulness. Whether it be presented as a jar of dirt, or a tangerine peel sent in the mail, it is as though the peels are saying: "here is what is left of what I was doing during my day, during time that is not replaceable, as I thought of you. A reminder that you are on my mind even in moments of distance." This notion extends past a kind of productivity for capitalist's sake, and it instead reaches into practices of meaning-making for ourselves and how we choose to show love and connection. Exchange Piece knocks on my emotions, invites curiosity, encourages learning, and weaves its way in between the cracks of connection; holding together the truths of what could be, and what is never finished.
Just Short of Everything runs from January 14 – February 4, 2023 at the Alliance Française Toronto in Toronto, ON.
Feature Image: Please Help Yourself, 2021 by Lan Florence Yee and Arezu Salamzadeh. Photo by Paul Litherland courtesy of the artist.