The Un-Othered Body
14 June 2017
By Tori Maas
When I first walked into the gallery at the opening reception for The Un-Othered Body, I was met by artist Dainesha Nugent-Palache's Unwelcome Mat, a fitting beginning and anchor for an exhibition that unapologetically asserted and centred the voices of six women of colour whose work was brought together by curator Esmaa Mohamoud. Nugent-Palache's Unwelcome Mat is made with yarn, Kanekalon synthetic hair, human hair, and beads. The contrasting yet earthy tones spelled out the word "UNWELCOME" in bold, block letters. For me, it didn't feel like a signpost saying that I was unwelcome, rather it symbolized an act of strength. The mat embodied a voice though there was no real speaker; the voices and bodies of women otherwise silenced—or othered—came forward in this work.
Moving through the space in the main gallery, I began to see connections between the works of the four artists featured there. In addition to Unwelcome Mat, Nugent-Palache had two photographic works in the exhibition, one of which, called Untitled (Mom & Dad) featured the nude bodies of a man and a woman caught in an intimate moment of laughter and love. Their bodies, soft and beginning to show signs of age, were in an embrace, supporting one another and celebrating the happiness of their closeness. On the opposite wall, three large scale paintings by artist Oreka James featured the stylized bodies of black women in day-to-day, seemingly mundane moments of intimate solitude, such as bathing.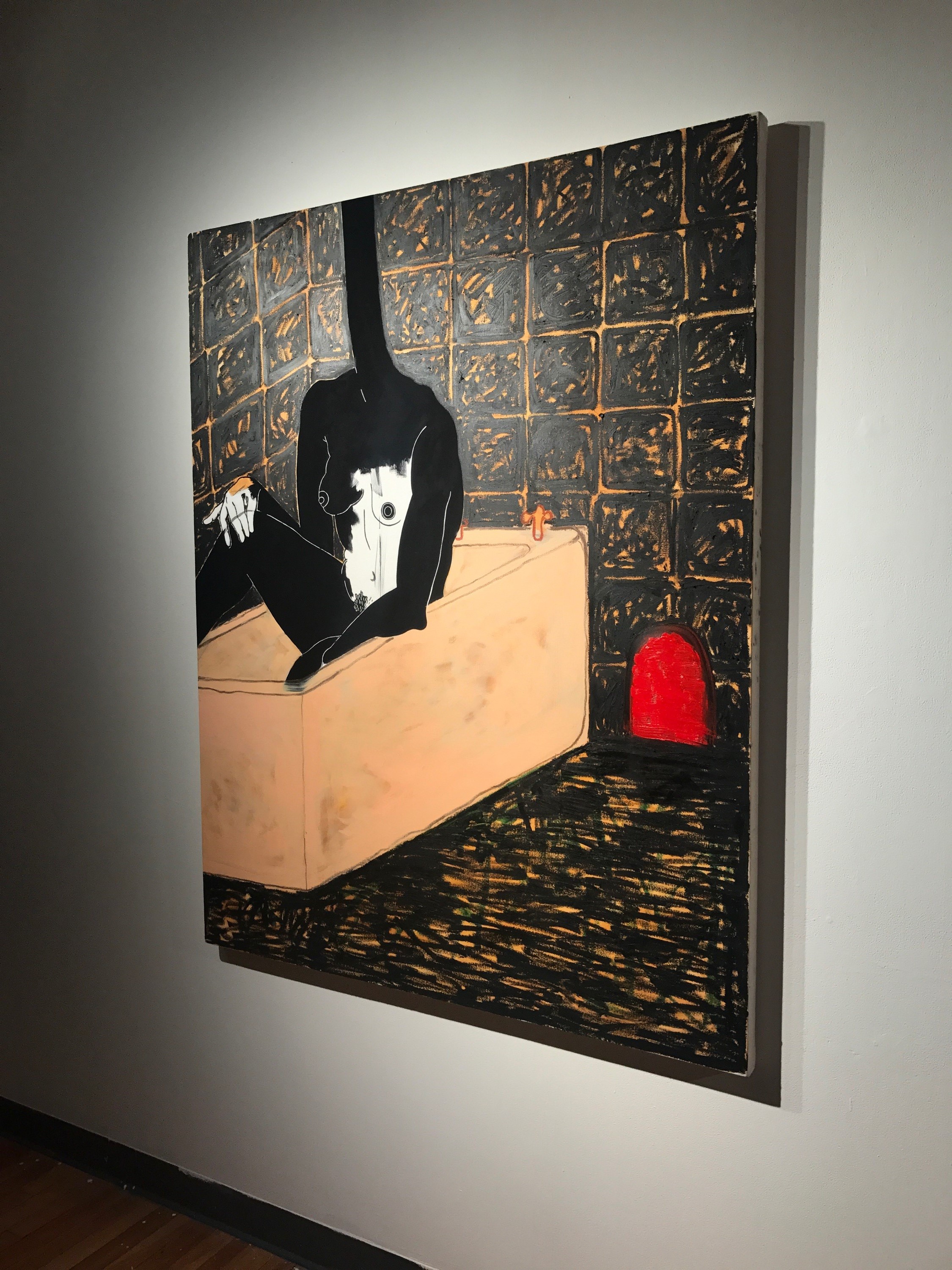 In the hallway adjacent to the main space, artist Jenny Chen's watercolour paintings—part of a body of work called Vessel Series—featured the bodies of nude women in pastel tones, tumbling over each other on a backdrop of white. The works by Chen, James, and Nugent-Palache all portrayed nude bodies that blend strength with vulnerability and defy a viewer's detached gaze, whether male, white—or both. The subjects  are not the traditional passive bodies of nude women that have covered the canvasses of male artists for centuries, nor are they  the exoticized (also nude) bodies of women of colour as they've appeared throughout art history, such as the passive Sleeping Gypsy in the 1897 Henri Rousseau painting of the same name. Unfortunately, acts of appropriating the bodies of people of colour continues to happen. The recent controversy over artist Dana Schutz' depiction of Emmet Till in the 2017 Whitney Biennial serves as an example that there are still conversations, questions, and fraught dynamics over the depictions of people of colour, especially by white artists. In contrast to this, the bodies represented by Chen, James, and Nugent-Palache invited viewership while remaining anything but passive—the bodies depicted are in motion, showing moments of intimacy and action, and even though they may be sexual, they're not objectified.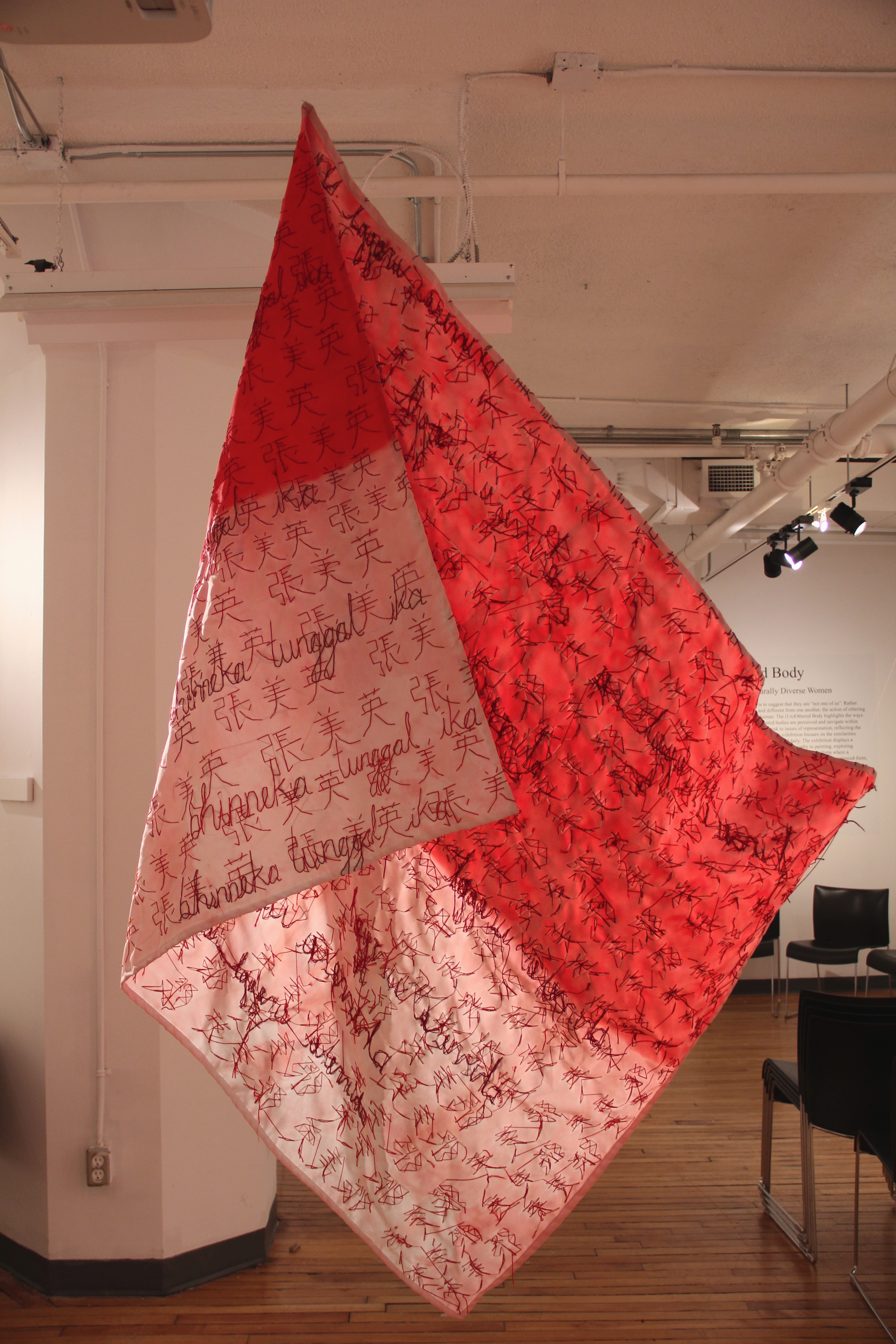 James' and Nugent-Palache's two dimensional work in the main space was balanced by embroidered garments by Karina Iskandarsjah and sculptures by Tau Lewis. According to Iskandarsjah's artist statement, her works "explore the notion of collective memory within specific geographic areas through psychogeography while also delving into the erasure of non-dominant histories." The embroidered, colourful silk textiles are evidence of Iskandarsjah's exploration of her personal history and were situated in a way that represented their movement and wearability rather than appearing as museological objects.
Artist Tau Lewis also used found and repurposed objects in her sculptural work, and has recently been working with "repurposed materials collected throughout the Canadian landscape to create figurative sculptures investigating black identity politics and African diaspora." Lewis' work in the exhibition included the multimedia sculptural works, How do you live with a curse when you were born blessed and Georgia marble marks slave burial sites across America. Both works, completed in 2016, included a combination of found objects—the antique postal scale in How do you live…, was combined with a bunch of green-yellow bananas that morphed into the heads of penises. Georgia marble marks slave burial sites across America blended art historical tropes like the marble bust with an embrace of faux finishes. The bust appeared to be a black woman with her eyes closed, facing upward, while the faux-finished marble was given its shiny polish with the use of high-gloss acrylic, allowing small imperfections to show through. Heavy chains were situated on top of the figure's head, falling over the shoulder and pooling onto, then off the side of the white plinth. The high-gloss acrylic finish used in elements of both pieces gave the works a glossy plastic texture that reinforced the juxtaposition of cold, metal objects with shiny, smooth handcrafted ones. Taking into account the stark yet evocative title, the gesture of the figures' upturned chin underscore Lewis' work on the connections between black bodies, their appropriation and their connection to place.
The exhibition extended beyond the main space into an adjacent hallway, where the scent of Pakistani sandalwood incense drew me toward artist Mariam Magsi's work, titled Go Back To Where You Came From (2017)—an installation that included burqas, rose petals, text and a mirror on the wall. A dark rectangular room off the hallway was the source of the scent, and on entering, I found the room completely devoid of light. A disembodied voice repeated over and over: "go back. to where. you came. from." The heady scent and the incorporeal voice that was both nowhere and everywhere at the same time made me hyper-aware of my own body in space. It was simultaneously inviting and hostile, and when I experienced the work alone—I felt singled out and accused; I felt othered.
Magsi's installation continued into the hallway that lead back to the main gallery. The burqas hanging from the wall across from a small rectangular mirror were conspicuously empty, but acted as stand-ins for the body that would inhabit them. Viewers were invited to try the burqas on, as a way to pull them  into the installation and experience it through the additional senses of touch, scent, and sound. In a conversation with the artist, I learned that Magsi referenced the shrines she grew up with in Pakistan, and brought those signifiers into the contemporary and conceptual context of the exhibition. Two-dimensional work by Chen and Iskandersjah rounded out this adjacent space, thus creating a visual link to the work inside and outside the main gallery.
Bodies are a common denominator, we all have one. They aren't something you can hang on a coat rack when you get home at the end of the day, or decide whether or not to wear when you wake up. The act of being othered can be unrelenting, as felt in Magsi's work. The continual demands of "go back to where you came from" don't stop or change, and further encourage the accusation that whoever is hearing the message doesn't belong. This is the feeling of being othered—it's both an accusation and a demand. "Taking up space" is a phrase that is commonly used in social justice circles, but what does "taking up space" really mean? To my understanding, it means exactly what it says. There can be a lot of strength involved in simply being. According to Mohamoud's curatorial statement, "to suggest that an individual or group is other is to suggest that they are 'not one of us". Rather than acknowledging that everyone is complex and different from one another, the action of othering excludes and reduces people to being less than human." An unapologetic taking up of space was a theme that carried through the exhibition, in which Mohamoud worked to "highlight the ways in which class, race, and gender all shape how othered bodies are perceived and navigate within contemporary spaces." As indicated in the curatorial statement, the artists all dealt with issues of the body through an intersectional lens, looking at issues of class, race, and gender as identities that intersect and inform one another, using the common thread of physical bodies and voices to weave them together. Walking into the exhibition and seeing the Unwelcome Mat, I wasn't sure what the rest of the show would have in store, for "welcoming" viewers by stating they are "unwelcome" is no small gesture. Rather, it gives a sort of physicality to the voice in Magsi's work, and considering what welcome mats are used for, this one says something different: you, whoever you are, are welcome to enter—but not to walk all over.
The Un-Othered Body took place at OCAD U's Graduate Gallery from February 8-16th, 2017 in Toronto, ON.
Feature image: Georgia marble marks slave burial site sites across America, 2016 by Tau Lewis.
All images courtesy of Esmaa Mohamoud.