Tina Guyani | Deer Road
1 November 2019
By Juilee Raje
A hide suspended from the ceiling engulfs the room in a tawny glow. Though when I first walked into the gallery I was bathed in warm light and brightly coloured blankets, a closer inspection of the works revealed encounters with baleful spirits. A lone footstool conjured a somnolent ache for warmth, a persistent drone reverberated around the walls and gnawed on my senses. Glittering pennies invited me to circle around displays of taxidermy bucks with their antlers adorned with bells, but also vandalized with yellow barricade tape screaming: ENVIRONMENTALLY SENSITIVE AREA, ENVIRONMENTALLY SENSITIVE AREA.
Displacement is a point A to point B process: a violent and unreciprocal flow of power, a loss of sanctuary, a blur of belongings lost in the wind. We are often too quick to bundle up and sweep away the traces of the transition, the shards that break unevenly. Tina Guyani | Deer Road returns to the scene of the crime and gently wraps the damage in a blanket, soothing and honouring the elements of a family story from Tsuut'ina Nation which has been pushed to the margins.
Tina Guyani is the last of a series of exhibitions presented at Art Gallery of Guelph this year which held a magnifying lens over the detrimental effects of colonial industrial development on First Nations land. One of the summer exhibitions, titled The Drive (after Tom Thomson's painting from 1916-1917), placed together works from mid-career and established Canadian and Indigenous artists to illuminate nuances in personal histories across Turtle Island through depictions of landscapes. Group of Seven paintings of barren, undisturbed landscapes were sprinkled in between works from contemporary Indigenous artists which asserted the realities of the unceded land—fraught with environmental damage caused by accelerating economic greed. This conversation is continued in Tina Guyani, where mother and son artists Glenna Cardinal and seth cardinal dodginghorse, residents of Tsuut'ina Nation, offer their intimate interpretations of the construction of the Southwest Calgary Ring Road which took place in 2016, a project that left a physically irreversible impact and emotional trauma on the family's ancestral territory.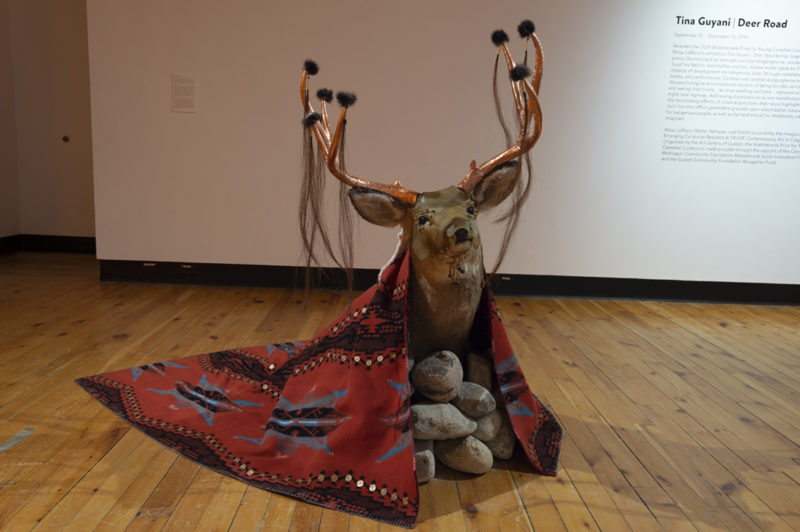 History doesn't halt for you to educate yourself. The force of it simply drops you to your knees and into a head-on confrontation with a buck in a blanket. As clouds slowly turn silver and the wind sharpens its teeth, local wildlife prepare to gather sources of nourishment with increased urgency. In the fall and early winter, seasonal patterns cause more animals to be exposed to traffic and areas of human activity. At wide highway intersections, there is often a flagrant odour from small critter carcasses who have lost their lives scurrying across; their fate pinched somewhere between a tire and a stretch of asphalt—a banal loss of life simply for crossing paths and attempting to co-exist with a machine.
Artist Glenna Cardinal remembers a moment she shared with a deer. While visiting the once-familiar network of paths near Elbow River where trails had been realigned for the construction of the eight-lane freeway, the animal emerged in front of her unexpectedly. As she connected with the buck, she felt the desolation of her familial lands mirrored back to her through the animal. She decided to uphold the land's integrity by creating the works mourning home (2019) and Tasjaji nigola (Do you have any change?) (2019). Materials such as antler buttons, horse hair, hawk bells, weasel pelts and more surround the taxidermy buck. The animal's head is covered with parfleche, a rawhide which offers protection for the present and the future; like a spell cast around the symbolic representation of those who continue to be deeply affected by the demolition of trees, loss of homes and of entire livelihoods.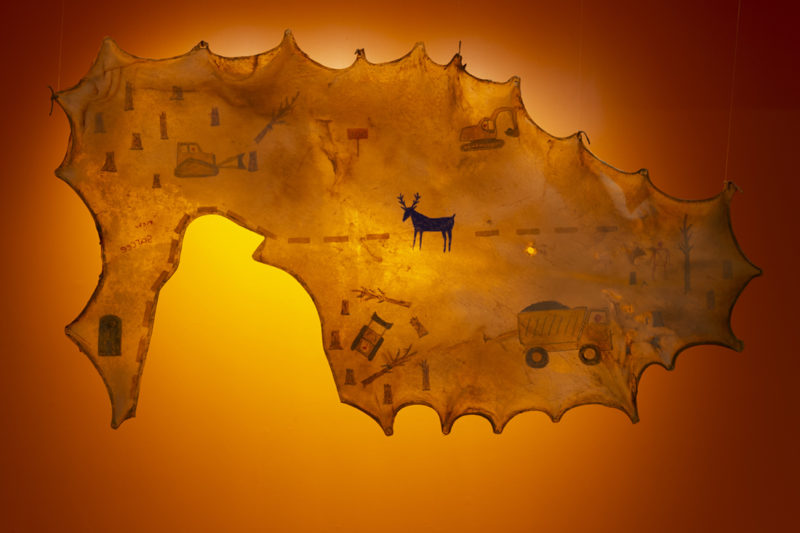 Missy LeBlanc's curation comes to life in Tina Guyani's ability to press the viewer against the wall—to illustrate the real consequences at stake—sometimes quite literally. The hide from Ina Series (Winnie & Elsie, Winnie, and Ina) (2019) is attached to the ceiling in such a way that the viewer has to step behind it in order to see the images painted on its inside. Here, seth cardinal dodginghorse simultaneously illustrates the unforgiving nature of construction machines and pays tribute to his mother's experience with the deer at Tsuut'ina, depicting an emotionally-charged intimate moment, instead of the heraldic accounts of battle traditionally reserved for hide paintings.
There is a piece missing from the hide; a hole in which to hold space for images of Cardinal's great grandmother and grandmother who have been removed from the story, evoking the exclusionary proceedings of displacement. Yet, even if the piece is missing—it had either fallen behind in point A or reached the new realities of point B—the blanketed bucks with gentle gazes, warm embrace of the hide, symbolic piles of pennies, and shaking bare branches all bring back the power of the ancestors' presence, despite the impermanent attempts at their erasure.
Tina Guyani | Deer Road ran from September 12 – December 15, 2019 at the Art Gallery of Guelph in Guelph, ON.
Feature Image: Installation view of Tina Guyani | Deer Road, 2019. Photo courtesy of the Art Gallery of Guelph.