Well Now WTF?
5 February 2021
By Shauna Jean Doherty
Since the early 1990s, the Internet has served as a medium, as well as a site of connection and presentation for artists situated across the globe. Art made specifically for online contexts is inherently ephemeral and infinitely reproducible, qualities which have historically hindered Internet Art from being readily taken up in mainstream art circles. Now, in our COVID-19 stricken world, they are the very characteristics that are enabling the form to thrive. This is a moment that net artists didn't know they were preparing for. Amid this global pandemic their digital savvy and techno-agility has suddenly proven to be prescient.
Well Now WTF?, an Internet Art exhibition, accessible by computer or smartphone, is described by Wade Wallerstein, one of its co-curators, as a net art revival,1 reaffirming the value of the responsiveness, agility and anti-institutionalism that has been at the heart of the genre since the start. The show opened on April 4, 2020 and will remain visible as long as the site's web domain remains active. This timeline stands in contrast to the indeterminate closures of galleries and museums worldwide. In addition to Wallerstein, the exclusively online show is curated by Canadian GIF-art legend Lorna Mills and New York-based multimedia artist Faith Holland.
In an effort to focus the sprawling exhibition, I want to cast a lens towards the strong contingent of Canadian artists included in the exhibition's lineup. Given the borderless nature of online spaces and the fact that the exhibition admittedly has "no great thematic presentation or grouping,"2 it may seem strange to apply this territorial qualifier. This approach achieves multiple aims: 1. It operates as an organizing device by which to interpret the works of the some 120 artists involved in the show, and  2. It draws specific attention to the country's active, robust and under-reported digital art community.  
Born of the global uncertainty brought on by the pandemic and propelled by the visual buffet and perpetual scroll we are well-accustomed to, Well Now WTF? includes a range of digital artists – some who have shown in galleries internationally and others who have remained largely anonymous behind their computer monitors for the bulk of their careers.
The exhibition is arranged as a series of "rooms" that are navigable via links presented on one of the exhibition's main pages. The curated collection primarily includes GIF (Graphic Interchange Format) works in addition to a smaller selection of non-repeating videos that are hosted on YouTube. Critically, the works on view are displayed in the online contexts in which they were conceived as opposed to being presented on non-Internet enabled screens in a white cube gallery space, where the context of the world wide web is often merely simulated.
The GIF is a file format that has long been embraced by artists due to its simplicity and size. In many ways, GIFs are the ideal pandemic art form. They can be consumed with ease from the safety and sterility of one's own home while connecting viewers from across the globe. As Sally McKay articulates in her text, "The Affect of Animated GIFs (Tom Moody, Petra Cortright, Lorna Mills)", they occupy space that is both public and private and their meanings "are always informed by the technologized environment in which they function."3 Now, within the context of the pandemic, the technologized environment has taken on a new meaning – one of grief, loss and civic obligation. 
After typing the show's URL (wellnow.wtf) into your browser, you'll encounter the exhibition's landing page, which offers a brief introduction. Behind the explanatory text lies an undulating and psychedelic background, composed of a GIF by haydiroket (an artist whose name doubles as their Instagram and Tumblr handle). The backdrop animation oscillates—displaying barely legible letters that spell out the exhibition's title, alternately transforming into a set of 1's and 0's (a likely nod to the binary code on which the featured works rely). From the outset you might find yourself feeling slightly off-kilter as the website's main page unrelentingly wobbles and weaves. This is a foretelling of a general sensibility that defines the maximalist onslaught that Well Now WTF? serves.
After officially entering the online exhibition space, a chaotic image grid appears, each square with an animated thumbnail that represents an individual room. The grid provides a modicum of order for an exhibition that includes a daunting number of artists and almost constantly moving works that differ wildly from one another. The scope and delivery of the exhibition mirror the information overload that characterizes the typical Internet experience: one link leads to another, in an unending loop that swallows hours of your time.
The first Toronto-based artist you encounter (if you follow the grid linearly, which you as a viewer are in no way required to do) is by Geoffrey Pugen who is featured in The Clean Room. His animated montage shows women connecting with each other over clunky mobile phones, vintage computers and a 1-800 number that ends with the word PAL. Words like "blue" and "isolation" flash across the screen, situating these characters inexplicably in the present against a backdrop from the past. Pugen's GIF has a particularly 90s vibe, with its Memphis Milano patterning and vaporwave elements, harkening to a moment online that was much more optimistic than it is today.

Traversing from retro-futuristic to hyper-futuristic, is the work of OCAD U graduate Stacie Ant, who is a rising star in the realm of net aesthetics. Currently based in Berlin, her works combine sleek 3-D animations with a pop sensibility, that depict impossibly thin female figures with robotic features in futuristic environments. Ant's girls live in a maximalist universe and are almost entirely concerned with luxury brands and expensive coffee. Their skin is shiny and resembles plastic to such a degree that they appear as doll/human cyborgs. These characters reflect much of Internet content in their vapidness, emptiness and stylization.
Ant's GIF piece is featured in the exhibition room, Cluster Fuck Closet and includes a digital rendering of a girl chewing gum, lounging in a candy pink bedroom. A bubble hypnotically inflates from her mouth as she stares blankly at her cell phone screen. Each frame glitters as if it's been augmented by Instagram's sparkle effect or TikTok's bling filter. If you look closely, past the bubblegum colour scheme and Louis Vuitton patterned bedspread, the artist has cleverly inserted 8-bit clouds on the girl's pillow, a nod to Cory Arcangel's Super Mario Clouds (2002), a now canonized piece of new media art from the Whitney Museum's permanent collection. Ant's digital spaces collapse time, making visual references across decades and between mainstream styles and fringe genres, reflecting the polyphonic perspective of a person who has grown up online.
From emerging net artist to veteran of the field, in the Bed of Nails room, Lorna Mills presents a more organic scene—a cross-section of a decaying apple, presented amidst a solid pink background. With each passing frame the fruit is engulfed by more and more ants. There are holes cut into the apple's pulpy flesh, making it resemble a face. As the ants eat away at it and the fruit decays further, the face becomes increasingly sinister. The unsettling transformation occurs in a span of under 10 seconds. In her GIF, Lorna Mills draws on the traditional European still life genre and catapults it into the apocalypse of our modern times. This is a still life from hell.
Edmonton born, Brooklyn-based Jillian McDonald is joined by Toronto artists, Alex McLeod and Tobias Williams in the So Sad Because the Art Fairs Were Cancelled room. The name of the room itself is cheeky, pointing cynically to the typical absence of digital art brought by gallerists and purchased by collectors at international art fairs. Most digital art aficionados are likely not too put out by one less opportunity to see a half-baked VR work hidden in the back corner of a convention centre. All three artists in this space present glossy digital environments with appealing rounded objects at their core. McDonald's GIF is centred around a violet spherical crystal that hovers above and dips below a rock formation flanked by cacti in a simulated natural landscape. At the end (or is it the beginning?) of the sequence, the crystal explodes into a pleasant prism of colour. Similar in technical prowess, is Alex McLeod's piece, composed of two highly aestheticized shapes—a golden ball with a coral exterior which is repeatedly caressed by a beige strip folded over multiple times on itself. Finally, Tobias Williams presents metallic, balloon-like shapes that spell out the word isolation. An alternative version, with sound, is posted on the artist's Instagram feed. The letters float freely but are trapped within the confines of the digital frame the artist has created. The work's dreamy soundtrack belies the desperation of imposed seclusion. These three works attempt to imagine an alternative world beyond the walls of quarantine, though ultimately offer little beyond the flat superficial spaces they represent. They have the effect of high art desktop backgrounds. Created in solitude and viewed in isolation, they allude to the limitations of viewing digital works alone (without conversation or didactic information to draw on).
Nicolas Sassoon, whose digital works have been exhibited at The Whitney Museum of American Art and ZKM Center for Art and Media in Germany, also experiments with minimalist shapes and simple colour palettes in his contribution to the exhibition. Sassoon is known, in part, for creating immersive audio-visual experiences, by projecting enormous moving images of natural forms, in large-scale gallery spaces. The frame of the desktop is not unknown to the French born, Vancouver-based artist who also often experiments with GIFs and virtual spaces by combining digital motifs like grids, pixel dots, solid backgrounds and clean lines. His piece is found in The Clean Room and consists simply of straight lines and punches of black, lavender and gray. Despite the flatness of the image, the schematic produces a sense of three-dimensionality through its slow and hypnotic rotation. This piece is both contemporary and nostalgic, asserting a timelessness that is rare in the digital environment in which it was created. It is very much in keeping with Sassoon's practice which often evokes architectural themes, represented through minimalistic linear renderings that share the appearance of early computer graphics.
Sassoon's focus on artificial architectures stands very much in contrast to fellow Vancouver-based artist Erica Lapadat-Janzen whose practice is dominantly concerned with the human body. Lapadet-Janzen creates digital collages that superimpose elements of physical forms. She often uses her own face as a canvas, using Photoshop to cut and paste her features to create fragmented and alien self-portraits. Drawing on conventions of editorial photography, she subverts glossy images into strangely appealing and repulsive compositions. Her tendency towards disembodiment and dissection is evident in her GIF piece for WTF which features a collage of multiple animations of hands laid out within a single plane. Some of the hands are real while others are digitally rendered. In each set, the hands are impatiently active—thumbs are twiddled and nails are tapped on an unseen surface. These actions are performed indefinitely, in recognition of the seeming infinitude of the pandemic. More broadly, Lapadat-Janzen's invocation of the selfie reflects on the conflicting combination of self-obsession and self-alienation that is brought upon by the ubiquitous presence of digital devices in our lives.
Also featuring a detached extremity is Adrienne Crossman's GIF in the Stay Home and Masturbate section of the site. The simple piece showcases a hand that opens and closes, wearing a gold-coloured exfoliation glove. Long nails that signal the passage of time, extend out of the glove's fabric. The GIF itself is distinctly DIY—featuring a shower curtain as the backdrop and the artist's partner as the lone actor. This work extends Crossman's examination of queer domesticitiy and self-care, in the context of isolation.

In the Deep Dark Germ Corner room, self-proclaimed "Famous New Media Artist" Jeremy Bailey brings us out of the frame of the exhibition's website and onto YouTube, where his DeepBeing.zip can be viewed. Once you've navigated to a new tab in your browser, Bailey yell-talks about a piece of software that can transform your selfies into "vast oceans of meditative contemplation". He enthusiastically demonstrates the app's capabilities, imposing an air of vaporware—a piece of software that registers more promises than outcomes. This is only one of several Canadian video art contributions to the show.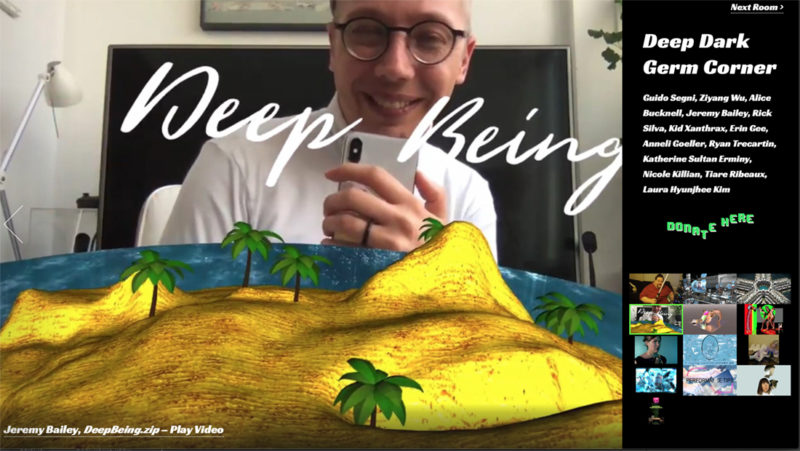 Maya Ben David matches, perhaps exceeds, Bailey's quirkiness in her video The Air Conditioner Monologues, where she cosplays as the air conditioner character in the 1980s classic animated film, The Brave Little Toaster. David's zany video is loaded with handmade costumes, a DIY green screen, layered voice overs, clips from the movie and a narrative that tells the story of an inanimate appliance that experiences a psychological breakdown. David's video is deeply imaginative and consistent with the wacky dress-up antics that play out in many of her artworks.
Deep Dark Germ Corner also acts as the portal for Erin Gee's Machine Unlearning (2020), a preview of a longer work that the viewer is instructed to contact the artist to see in full. This feels a bit out of place for the infinitely looping free for all that Well Now WTF? structures itself on. The ASMR-esque video sees the artist addressing the camera directly describing a mysterious medical procedure that "involves the insertion of a tiny—teeny tiny—chip into just the base of your neck". The sci-fi premise and intimate delivery leaves you compelled to watch the entire piece. Still, interest is fleeting when it comes to the Internet and it's not long before you find yourself moving onto the next digital distraction.
Next is Rah Eleh's SuperNova_Oreo (2019), a talent show satire whose high production quality feels incongruent with many of the lo-fi works in the exhibition. The dialogue is densely packed and merits more time than Well Now WTF? (and the Internet in general) has groomed its audience to commit. In this piece, Eleh's recurring character, Oreo, performs a parody of race (whiteness) and gender (hyper-femininity), laying bare the mythologies that surround these social constructions. Critical concepts of passing, colonialism, authenticity and racial purity are lampooned in the piece, which are themes that extend throughout her lens and performance-based practice. SuperNova_Oreo, like Gee's piece, is an excerpt of a larger installation titled Supernova, which is typically presented in three channels in a gallery context. A more contemplative, gallery setting would allow more psychic space for the intellectual processing the work deserves.
It's notable that the videos by the artists listed here were each made before COVID-19 ripped across the world. Even Gee's video, the most recent, posted on YouTube on January 31, 2020, illustrates a certain pre-pandemic innocence. This, combined with the fact that each of the videos feature images of the artists' themselves, frames these works as portraits of how we were before the crisis took hold.
Toggling from the framework of the exhibition's website and YouTube's proprietary platform, with the noise of playlists, comments and targeted ads is disorienting. As you endeavour to focus on the artworks that have driven you there, other YouTube videos automatically populate your queue. Alluring content like "Buffy Bloopers," "Flattering Hairstyles For Older Women," and "Culinary 411 – Basic Knife Skills" may steal your gaze. Before you know it, you're watching Britain's Got Talent clips from 2017, you're crying, and things make less sense than ever before.
Similarly overwhelming, the exhibition's combination of video and GIFs is cumbersome. The videos are all given titles and dates and appear largely in the final rooms of the exhibition. It's a difficult transition to make as a viewer, going from 5-10 second GIFs on loop to 3-5 minute videos with dialogue, narratives and what feels like a torrent of visual information. The GIFs are untitled, undated and brief. They can be consumed in as much or as little time as the viewer elects to invest. They are at once urgent and fleeting and do not require that you withdraw from the frame of the exhibition. The videos, on the other hand, shift you into a new domain, interrupting the flow of the online exhibition experience—the Internet becomes an overwhelming burden rather than a therapeutic outlet or bastion of community, as the exhibition text asserts that this project aims to be.
Ultimately, Well Now WTF? yields to the pitfalls that beleaguer many online exhibitions, albeit with smart-assed self-awareness. The infinite space and time, as well as the lack of geographic specificity afforded by online contexts tends to render online exhibitions unwieldy. The boundless potential of virtual space erodes curatorial focus and presents viewers with too much visual information to make meaning from. This is a curatorial risk that Well Now WTF? embraces. The exhibition is not meant to deliver a succinct experience for the viewer, rather it offers a deluge of digital material that can be waded through, lost in, and returned to again and again, in the endless hours imposed by our new stay at home routines.
Irreverently playful and chaotic, perhaps the show doesn't offer much solace, but it certainly provides temporary distraction from the ongoing apocalypse that continues to unravel day by day. The exhibition stays true to the enfant terrible spirit that Internet Art was founded on. Behind its frivolity lies multiple generations of serious digital art heavyweights including Kelani Nichole, the exhibition's website designer and founder of TRANSFER, one of the most prestigious brick and mortar commercial galleries dedicated to online artists; Rosa Menkman, the most prolific voice in glitch art studies; Jan Robert Leegte, one of the first Dutch Internet artists; and Petra Cortright, who led an entire generation of net artists in the early 2000s.
This show has brought Internet Art into the consciousness of the mainstream, garnering press from The New Yorker,4 4Columns5 and The New York Times.6 Much can be learned from it, especially by those responsible for the clunky online efforts presented by large institutions that often act as accessories to physical shows. Given the length of time these digital tools have been available to public art institutions, the framework of online exhibition making remains overall under-developed. 
Recurring motifs stretch across Well Now WTF, offering insight into our shared preoccupations. Images of hands are common, intimating our collective anxiety about germs and sanitation that may never fully leave us. Sparkling fonts, dancing babies and low resolution animated objects harken to a past era of the Internet. There is comfort in this recognition. It's a reminder of a time when the Internet was an underground play place where users and viewers could enjoy a unique mix of community connection and digital anonymity on Geocities sites or MySpace. The truth, however, looms: the online realm has been sterilized and homogenized by enormous corporate entities like Facebook and Amazon. Algorithms now largely tell us what to see and how to behave online. There's a nostalgia in Well Now WTF?, for a time when the Internet was a place you could elect to go, not one you're bound to live in because you aren't allowed to go outside.
Wallerstein, Wade. "'Well Now WTF?'" Silicon Valet, 2020. http://www.wellnow.wtf/enter/WNWTF_Essay_Wade_Wallerstein.pdf
Ibid.
McKay, Sally. "The Affect of Animated GIFs (Tom Moody, Petra Cortright, Lorna Mills)." Art F City, 17 July 2018, artfcity.com/2018/07/16/the-affect-of-animated-GIFs-tom-moody-petra-cortright-lorna-mills.
Fateman, Johanna. "Goings on About Town." The New Yorker, Conde Nast, www.newyorker.com/goings-on-about-town/art/art-club-2000.
Penny, Daniel. "Well Now WTF?" 4Columns, 12 June 2020, 4columns.org/penny-daniel/well-now-wtf.
Steinhauer, Jillian. "2 Art Gallery Shows to Explore From Home." The New York Times, The New York Times, 13 May 2020, www.nytimes.com/2020/05/13/arts/design/virtual-art-shows-coronavirus.html.
Well Now WTF? is an online exhibition which opened on April 4, 2020 and was curated by Faith Holland, Lorna Mills and Wade Wallerstein. View it here: http://wellnow.wtf
Feature Image: Screencap from Well Now WTF?, So Sad the Art Fairs Were Cancelled. Still of work by Tobias Williams.