A Poetic Gesture: Night Shade by Claire Christerson
18 December 2018
By Karina Iskandarsjah
The night-time is when we accumulate and ruminate on all of our thoughts, feelings, and memories—whether we like it or not. It is when the darkness of the world pools with the dark parts of our nature; our scars and internal struggles. Claire Christerson's multimedia solo exhibition, Night Shade, tells us to embrace the convergence of these difficult emotions in the dark.
In September this year, Night Shade was held in Little Sister Gallery's temporary space near Trinity Bellwoods Park in Toronto. Little Sister is a unique emerging gallery owned and operated by Holden Kelly, Kate Kolberg and Jack Lambert—who have since rebranded the space as Sibling and relocated to the Junction neighbourhood. In her exhibition, Christerson collaborated with Little Sister as well as several Toronto-based performance artists to produce an immersive and phenomenological show—bringing to life a world of "Tim Burton inspired" (1) costumes, drawings and sculptures.
Christerson is a New York-born artist who is known for her fantastical books, illustrations and paintings. Through repetitive and noticeably obsessive tendencies in the work's formal quality, her practice focuses on world-building for the psyche—including flora and fauna motifs as well as recurring characters. The artist's heavy use of fine detail and negative space encourages the viewer to approach the works, knowing that there is more to see up-close.
Night Shade tells the story of the relationship between a young woman named Agatha and a characterization of the flower Atropa Belladona (commonly known as deadly nightshade). At the centre of this work are intimate letters between Agatha and Nightshade (Image 1) that provides an ambiguous narrative in which textual gaps—much like the inexplicable gaps of our own emotional introspection—are filled with visuals which are imaginatively unrestrained.
With a keen interest in presenting a personal saga, Christerson's imagery masks autobiography with fantasy, framing the work's content with a tension between intimacy and escapism. This tension is articulated in Christerson's loose gestures of narrative and the idiosyncrasies of her creative execution. For example, Blue Dress (2018) (Image 2) is a translucent ill-fitting garment that alludes to a deeply personal memory and was altered using blue dye and the spiral ornamentation of the exhibition's aesthetic. The artist transforms Little Sister's garage space not only through drawings and objects, but also through the installation of soft-sculpture works on the ceiling and walls, as well as handmade wallpaper and her on-site painting of the drawing's visual elements. The exhibition creates a slippage between art objects, ultimately producing a cohesive installation. (Image 3)
"What I pursue and what many artists around me and before me have done is interpret life through poetry," says Christerson, "Taking all kinds of experiences, emotions, colours and creating something out of them that can be understood in a more fluid way." (2)
Agatha and Nightshade's letters are sequenced in a small publication hand-drawn by the artist, while the gallery's floor, walls and ceiling were adorned with drawings, sculptures and costumes from the book's recurring monochromatic imagery. The final products resemble something in between classroom doodles and an illuminated manuscript. For example, in the work Night Time Crescendo (2018) (Feature image), tightly framed and laboriously detailed imagery contradict seemingly uncontrollable illustrative gestures.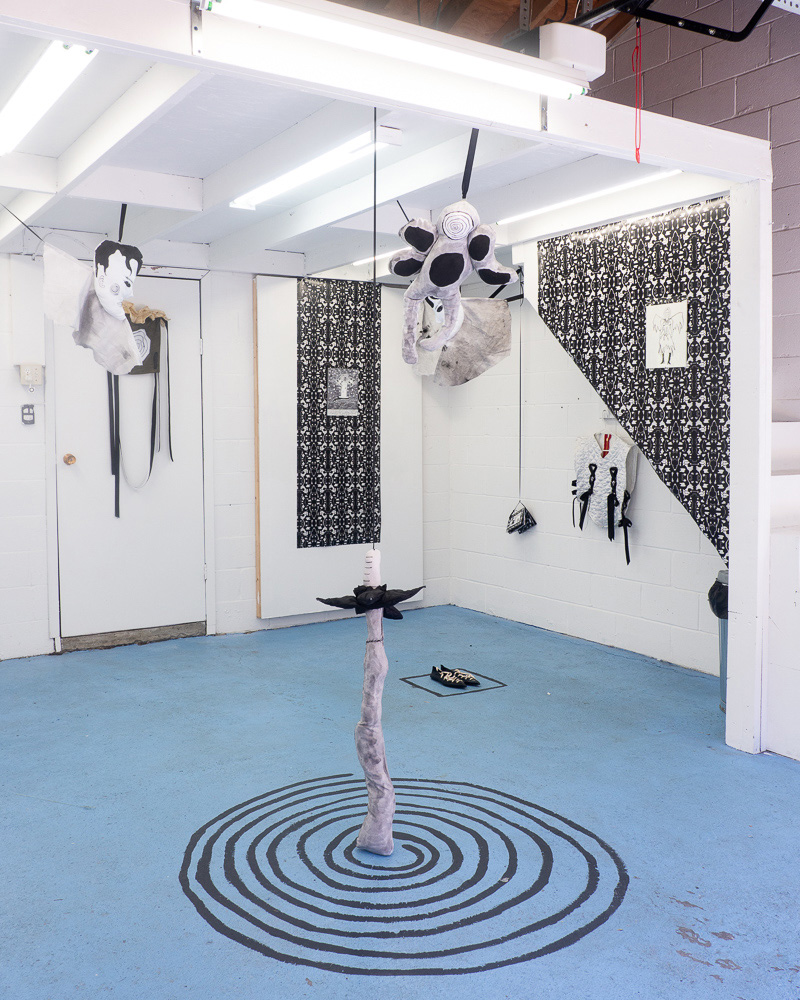 During the opening reception, Christerson collaborated with sound designer Sarah Kinlaw and Toronto-based performance artists Madelyne Beckles, Nicole Brunel, Kiah Francis, Coco Romack, Delilah Rosier, and Grace Jackson. Together, the performers slowly brought the costumes to life in floating motions around the gallery space. (Image 4) Just as this performance gradually produced intensity by engaging with and embodying the art objects, Night Shade is a collection of works that unveils its meaning slowly. It requires the viewer's time, attention and contemplation (the quiet neighbourhood of Little Sister's gallery space was conducive to this process). Before long, you start to recognize visual motifs and thematic connections between the different works, piecing together a tender tale of suffering and healing.
"When the imagination is active—taking in the world and surroundings—the brain is most present and focused on resolution from within, that actually makes you more present in the world," Christerson continues, "it's really easy to call someone who independently makes work 'an escapist' when often that type of person is the most affected by reality and is working really hard to share that insight." 
Night Shade reminds us of the value of the poetic gesture, offering it as a productive form of emotional resolution, as opposed to a type of self-indulgence. In our contemporary desire for insta-accessibility and digestible mental health solutions, undisturbed states of contemplation and vulnerability are largely avoided. In her work, Christerson encourages us to encounter the night-time as a space for contemplation. A space which is capable of bringing about pain and vulnerability, but is also the opportunity for great healing.
From an interview with the artist.
All block quotations are quotes from an interview with the artist.
Night Shade ran from September 8 – 29th, 2018 at Little Sister Gallery (Sibling) in Toronto.
Feature image: Night Time Crescendo, 2018 by Claire Christerson. Photo courtesy of Little Sister Gallery.