A Tangent Line Gently Touching Coins: Micah Adams at MKG127
11 November 2023
By Erika Verhagen
I went to Niagara Falls, Ontario and all I got was this lousy coin. Well, no, actually, it was in the thick of the manufactured thunderstorm at the Rainforest Cafe where I begged my roommate for a loonie to trade in at the gift shop desk for a single American penny. I walked over to the great touristic crank machine, inserting the penny to receive in return a flatter, more oblong coin sporting a new copper vista: Niagara Falls' Rainbow Bridge behind a posed cheetah with a body like Tony the Tiger and a face like the Cheshire Cat (years of evolution, and all he got was this lousy grin). My newly minted coin featured two of the three most popular iconographic features of currency: animals and infrastructure, but without the third: a bust on the coin's obverse. What then, is my suggestion? A dignified portrait of Cha! Cha!, the Rainforest Cafe's iconic red-eyed tree frog.
I have a bad habit of calling things "stony stones." It's a wanton misuse of the quote from Soviet literary critic Viktor Shklovsky's essay Art as Technique: "and art exists that one may recover the sensation of life; […] to make the stone stony."1 By calling on his ghost right now, I'm certainly flirting with the implication that pressing actual currency into a worthless, coin-like tribute to a themed restaurant is making the coin coiny. Shklovsky will have to suffer the indignity just this once while I try to make a point about remaking an object from its own material. Maybe I can undo the offense by offering a more flattering example of coiny coins: Micah Adams' recent show, A Tangent Line Gently Touching Coins, which showed at Toronto's MKG127.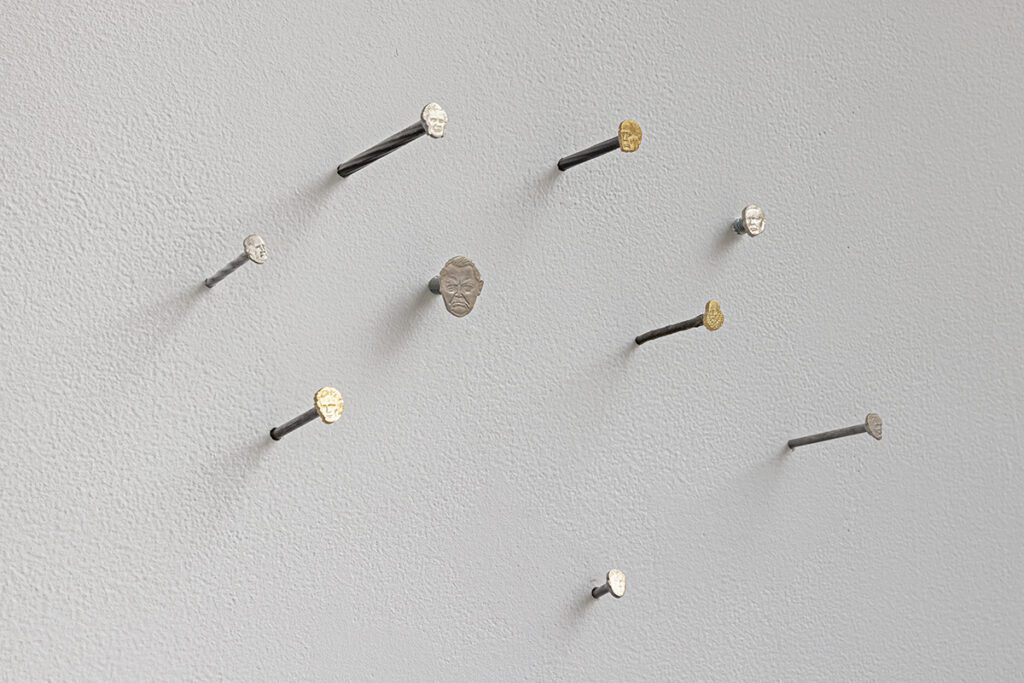 The central series of the show, the artist's fifth solo outing with the gallery and his fifth time prominently featuring currency in his work, are Adams' suite of cut coins, conjoined to create new diminutive portmanteau creatures from the tails-side ecosystem (think sphinx, jackalope, hippogriff). The artist's additions to the oeuvre of fantastical creatures included a boar with the wings of a certain patriotic bird (Eagle/Boar, 2023), a sea turtle grafted onto the shell of a snail (Snail/Turtle I, 2023), and a lithe hare-nightingale hybrid in silver (Hare/Nightingale, 2023). In the gallery's front room, a series of nails and screws are driven halfway into the wall (if I was feeling uncharitable, I would say "jutting out like a tetanus risk"). Their ordinary flat heads are replaced with the miniature busts of various coin toss patron saints: Queen Elizabeth, Marcus Garvey, and a man in a ruffed collar I can't confidently say is William Shakespeare (but might as well be). These heads are cut out from the background of coins. Gone is their numismatic context and, with it, my ability to put a name to the face.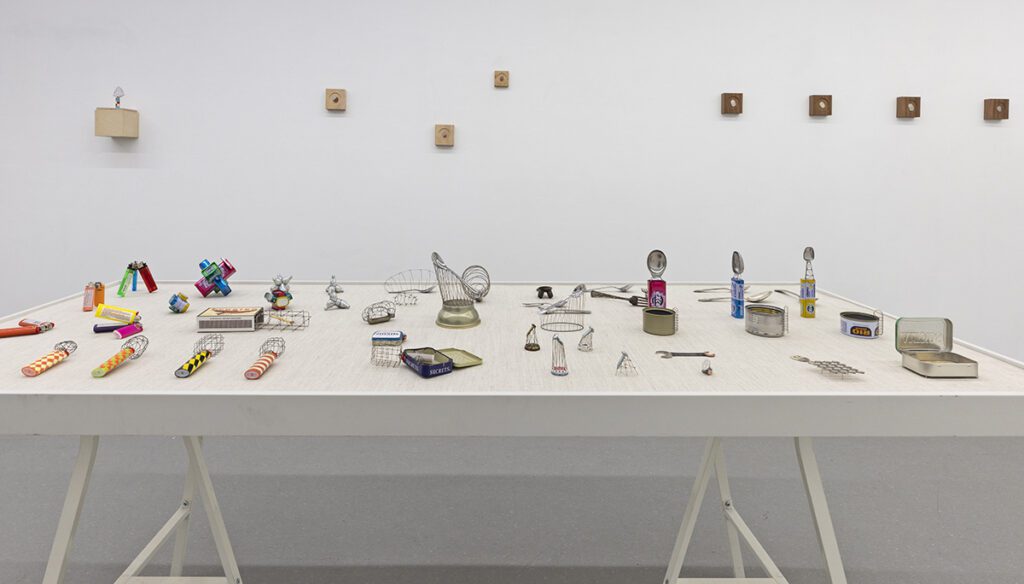 Sharing the wall with these nails and screws is Bridges (2022), a work of pencil crayon on paper made to look like a rubbing of three coins, each depicting a notable bridge: Sydney's Harbour Bridge to the left, Shropshire's Iron Bridge at Coalbrookdale in the centre, and Edinburgh's Forth Bridge to the right. Lined up in a row, the three structures create a collaged super-structure, the result of a game of architectural exquisite corpse. In a show of quiet works, Bridges whispers. Still, it is individual in its scale and process—drastically enlarging the object at the centre of the show as well as presenting the most plainly constructed image. In creating a collage of coins through methods of enlarging and reproducing them on paper, Adams provides a trail map for the rest of the exhibition. It is not that coins act as a shibboleth in this work, since they don't stand in as a reference to larger economic structures, nor as symbols of nationalism, or anything else but themselves. The work owes its existence to technique and materials, especially those that feel at home with pocket lint.
On its face, the coiny-ness of A Tangent Line Gently Touching Coins is abandoned with works like Bottle Top Monument: Ode to a Screw 3 (2023), a combination of steel wire, screw, and a bottle cap, a series of Satellite Spoons (2022) made up of mint containers with, you guessed it, satellite dishes made of spoons. These pieces play in the same ballpark as a basement tinkerer's scale model of Expo '67. Of course, in keeping with the show's title, these pieces conjure up the infrastructure (bridges, municipal buildings, even the venerable Canadarm)2 that dots currency. Perhaps more importantly, they exist in the same technical landscape as Adams' coins. In this way, they act as neighbours, not negations, of the coins that populate the show, reinforcing the sense of the coins' coiny-ness, while embracing their own essential thing-ness. They are, however, changed. In the case of Matchstick Factory Flaw and Pins (2023), nestled into a packed vitrine in the gallery's back room, a conjoined matchstick caged in a wire support is posed outside the exterior of a Redbird Matchbox. Could I strike it against the gritted paper and light a candle? Sure, but I would prefer to gaze at the defect like a pearl pulled from an oyster. Could I buy a single cinnamon heart with my Rainforest Cafe souvenir? No, but I wonder: would a wish at the Trevi Fountain still work with a flattened penny? If the coin were conjoined, if it was a coinier coin, it's surely worth double.
Viktor Shklovsky, Art as Technique (1917): 2, https://warwick.ac.uk/fac/arts/english/currentstudents/undergraduate/modules/fulllist/first/en122/lecturelist-2015-16-2/shklovsky.pdf.
The Canadarm is a robotic arm deployed in 1981 to assist in space shuttle operations. An image of the original limb has appeared on the Canadian five dollar bill since 2013. "Canadarm," Goverrnment of Canada, 2021, https://www.asc-csa.gc.ca/eng/canadarm/.
A Tangent Line Gently Touching Coins by Micah Adams ran from March 25 – April 22, 2023 at MKG127 in Toronto, ON.
Feature Image: Bridges, 2022 by Micah Adams. Photo by Toni Hafkenscheid courtesy of MKG127.