PLL BCK TH CRTN: On Colin Miner's The clearest image
21 November 2023
By Jonathan Scott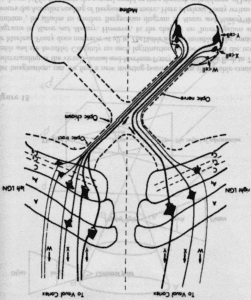 The clearest image is a fucking mess. Holes are cut in and through walls. The crap that came out swept together with the other detritus from the installation into little piles around the space. A deathtrap of electrical cables lay strewn on the floor, excretions from the neon-light entrails which spiral to infinitude. A polluting vibration of sound embroils itself with the feeling of controlled unruliness. A patient kind of anger tightens the air as if we're waiting for something to happen, but unsure if we've just missed it.
Please don't throw out
Never Slips
SUDDENLY, the silence02 is so loud we're surprised we didn't hear it before.
It's fantastically unsettling to go to a photographers' gallery only to find there are no photographs to see. Instead, a spectre of an exhibition is punctuated by nail holes and alignment marks. Were these illicit photos from another time, removed due to their intolerableness?03 The apparatus to channel this aisthēsis is here.
FIRST TEST Neg 02 (#4)
\/\/e are being brought into their processes simultaneously, whilst the sense of absence draws our attention towards a need to understand what we're implicated in. This pointed absence is sustained when we find that the only photographic paper in the show is limply propped on the floor by bronze sprue cast-offs. The image on the paper is obscured, inviting speculation on what we should not see.04 The branches of permanence denote a sculptural process that combines with this restriction to affect the viewer as some sort of monumental mason.
Sounds start again, and we're swept through the impermanent passage of a space in flux. Our shadows shift from the burning artificial glow of neon to the desaturated cooling of a monochromatic screen.
\Index of Hauntings/
Woods.
Night vision?
Ghost trees/foliage
Zoom into the depths of wood
Hog tail wagging, snout in dirt
Dug earth

Grainy static image
ZOOM
Polarized



ZOOM
Grainy image
Closer Closer
Dirt Twigs leaves
Slight ripple of wind
Silence is haunting
Marks like shallow graves
POND.

The tension on the filmed05a algae is hypnotic. We watch in anticipation of a rupture on the screen by bobbing fish. Nothing happens. We wait. The thingness of ontological anxiety is that it enjoys an extreme precarity of event. The frenetic un/fixed, un/graspable transient moment communicates with an imminent understanding of that moment, only to be upended and undermined by the same; next. It cannot be captured. Is this a fictioning, or a sigil of an abstract desire?
Photo-fiction is certainly not an eye equipped with an apparatus reducible to a technology. It is comprised of technology and lived experience [du vécu] but also of the concept and algebra disposed to differentiated places, for example whole numbers that are opened up or fragmented. Photo-fiction cannot be reduced to the photographic act or the taking of a photo that is simply commented upon or provided with some sort of caption. It is a thought that builds itself off the photo without being its metaphor, but which is nonetheless a fiction and an attempt at a generic science of the world.06
The fragmentary \/\/hole of The clearest image is less installation than scenario. We're implored to not see it as an exhibition, but rather to think of it as a Laruellean photo-fiction. The clack of the shutter materializing in the bored-out apertures in the walls. They not only capture us in our moments of looking, but also project the virtual cones of our engagement with the event. The scenario's conception implicates every thing; there is no escape.07 Nothing is stable in this Photo-Fiction. From the moment the curtain is pulled back, to the moment of realising our own subjectivities crawling on the ground to find the fucking pigs.08 \/\/e becoming. Just one of a plurality of fragments that make up this soiled episode.
I AM HOG
\/\/E ARE HOG
HOG IS VECTOR
HOG IS US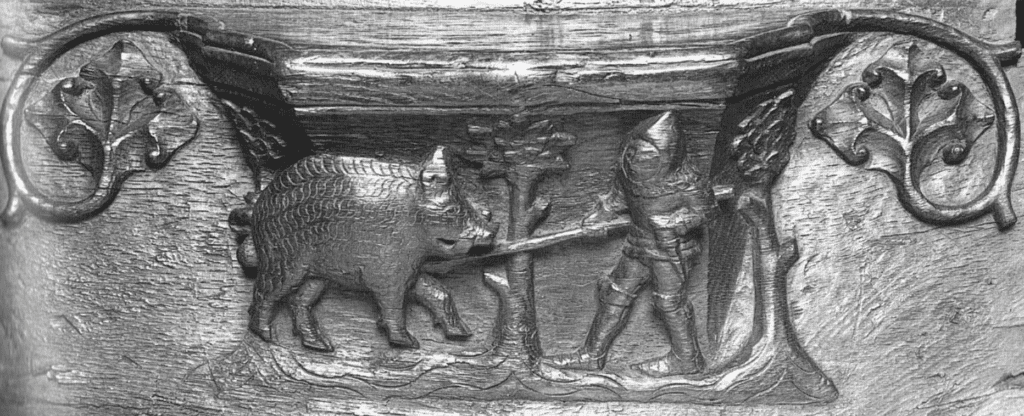 01. John Mullarkey, Photocopied composite diagram extracted from "Thinking in Diagrams," in Post-Continental Philosophy – An Outline (London: Continuum, 2006), 184.
02. \sound system/ \Welcome to the hotel California/ \hog rummaging/ \dog barking/ \clapping/ \child cough/ \child scream/ \people chatter/ \throbbing bass/ \dog bark/ \shopping trolley/ \plane overhead/ \hiss of recording/ \jogger/ \lapping water/
03. For a more extended contextualization of the absent images in the exhibition see Laura Demers' essay, "The buried image." It provides insight into Miner's use of their content to question 'what is photography' today and how to work with problematic photography from the past: Laura Demers, "The buried image," in The clearest image (Toronto: G44 Centre for Contemporary Photography, 2023) Retrieved from https://uploads-ssl.webflow.com/5f57b745d1d5c2444cb41781/64245c567228aa42b960a38b_2023%20May%20Cat.alogue%20Final-compressed.pdf. Also see the Scotiabank Contact Photography Festival webpage for a description of Miner's exhibition and its complicated content: "Colin Miner: The clearest image," Scotiabank Contact Photography Festival, 2023, https://www.scotiabankcontactphoto.com/2023/core/the-clearest-image.
04. See G44 Digital project by Colin Miner with Matt Nish-Lapidus, a year-long durational web project that shows documentation of the work being obscured by digital dust: Colin Miner and Matt Nish-Lapidus, "The sinking image," Gallery 44 Centre for Contemporary Photography, 2023, https://sinkingimage.gallery44.org/.
05a. The temporal poignancy captured in the shift from colour to black and white is significant as it seems to signal the hauntings that prevail over the entire space.
06. François Laruelle, Photo-Fiction, a Non-Standard Aesthetics (Minneapolis: Univocal, 2012), 33.
07. dust\tape/plaster\circles/again and again\cardboard tubes/vinyl lettering\sandpaper discs/plastic\paper towel/rubber gloves\evacuated quickly…
08. Hidden under the seating platform for the video projection is a small plaster sculpture of two pigs copulating.
The clearest image by Colin Miner ran from April 11 – May 27, 2023 at Gallery44 Centre for Contemporary Photography in Toronto, ON.
Feature Image: Installation view from The clearest image by Colin Miner. Photo by Darren Rigo courtesy of Gallery44 Centre for Contemporary Photography.