Bullets and Gush: After Cataclysm, Before the Storm 
18 August 2023
By Yantong Li
The recent Gallery TPW off-site exhibition at Whippersnapper Gallery, titled After Cataclysm, Before the Storm, presented a research-based multimedia exhibition that grew out of a sustained partnership between Gallery TPW and artist-in-residence Alvin Luong, who also commissioned new works by Vietnam-based artists Vicky Đỗ and Đoàn Toàn. Collectively, the artists attended to a meditation and temporal fabulation of post-war trauma, climate displacement, and diasporic memories within the context of contemporary Vietnam.
Upon entering, the storefront greeted viewers with Alvin Luong's Conscription Pictures (2022), a Southern Vietnamese counterfeit military uniform rendered with pork floss. The work served as an homage to Luong's grandmother, who took part in the women-led anti-war resistance in Chợ Lớn, the Cantonese district of Ho Chi Minh City. Coinciding with the landscape of Chinatown, the neighbourhood where Whippersnapper Gallery resides, the initial encounter with the exhibition painted an ambiance that extended outside the venue itself, evoking a spatial disorientation unique to diasporic subjects. This disorientation constructs a phantom capsule of déjà-vu that peeks into regional ruptures of Vietnam, while also remaining dislocated and enclaved in the foreign land of Toronto's Chinatown.
Inside the gallery, viewers were immediately surrounded by a cul-de-sac of untitled canvases plastered with gypsum and yellow drywall paints, displaying intentional folds and scrapes in an attempt to resemble a weathered establishment. Behind Luong's Conscription Pictures, a number of plastic stools were placed, with a few bearing the weight of two speakers and a monitor, which all stacked on a yellow painted board. The video monitor showcased three works––Nothing Belongs to Us (2023) by Vicky Đỗ, Hole Story (2023) by Alvin Luong, and Buoyant (2023) by Đoàn Toàn.
The desaturation of Nothing Belongs to Us, both in its content and visual appeal, engaged a pure, unfiltered encounter with the ghosts of the Vietnam War. In the work, Đỗ forms a memoir of her grandfather's recent passing. On a journey back to the city Quảng Trị where her grandfather once lived, two guides led Đỗ around sites charged with the memories of war. In their melancholic exchange, the traumas and wounds of the ghosts of Quảng Trị were ignited, stripping away their opaque torsos. However generational it may be, the memories of war linger on through these oral tellings. In the end, Đỗ grieves her grandfather along with the memories of a war-torn Quảng Trị, a place where "love, hope and sorrow" seemed to be reduced into "nothing but wounds," only to give the outro, noting that "nothing belongs to us," a deeply layered connotation.1
With the grievance Đỗ left for the viewers, the subsequent video work was set in Phong Phú, Bình Chánh District, where Luong's family home is located. On a trip back home, Luong encountered leftover sewage infrastructures from a real-estate development swindle that has left the area without proper drainage leading to profound flooding exacerbated due to climate change. The compromised development plan left the area unfinished and the government then seized control to erect a temple to commemorate the death of over 400 communists fighting in the area, conveniently excluding the names of South Vietnamese soldiers.2 The tangled narratives on this parcel of land eventually gave incubation to Hole Story. In the speculative film, Luong reimagined the sewage holes as guerilla tunnels for the communist soldiers during the war, fabricating a version of regional history appropriate and speculative, but not factual to the land itself. Behind the stools where the viewer could sit in the gallery, an identical sewage hole was tucked away. Despite being an obvious echo to Hole Story, the partial concealment of the sculpture paralleled the metaphor of hiding in Conscription Pictures. The two sculptural pieces reciprocated an often hidden story of war, in which one depicts hiding from conscription in the everyday, while the other paints a visual of underground operations in the front lines.
The crisscross of the complex narratives without a presumed chronological reading is representative of Luong's praxis for the exhibition. His adapted methods, which intervene with regional history through artistic manipulation, produced instances of narrative distortion that complicated linear orientations of history. The nonlinearity imbued in the works was, to an extent, reflective of how memory operates––either personal or collective, they are fragmented and disorienting.
The ecological affiliation with water in Hole Story also resonated with that of Đoàn Toàn's debut cinematic piece, Buoyant. In 2016, a marine disaster swept the shores of Vietnam and an alarming number of fish corpses were washed ashore.3 The Vietnamese poet Nhã Thuyên grasps this event in her poem "Taste of Water":
…when, am i, either river, or sea, these water bodies, have stopped bearing the fate, state, condition of adjectivity… tempestuous, tempestuously buoyant…4
Thuyên's delicate account is closely intertwined with the work of Toàn, where they engage in a fantastical writing on the rebirth of a merman through music and dance. The vibrant and joyous choreography tells the story of a fisherman rescuing a merman washed ashore, who, later on, stripped away their scales and was reborn to be married to the fisherman. Through the bold assertion of sensuality and queer joy, Toàn paid tribute to the resilient bodies afloat in an uncertain world in which we reside, and invited the audience to embrace the same sparks of hope when ascending to an unfamiliar future.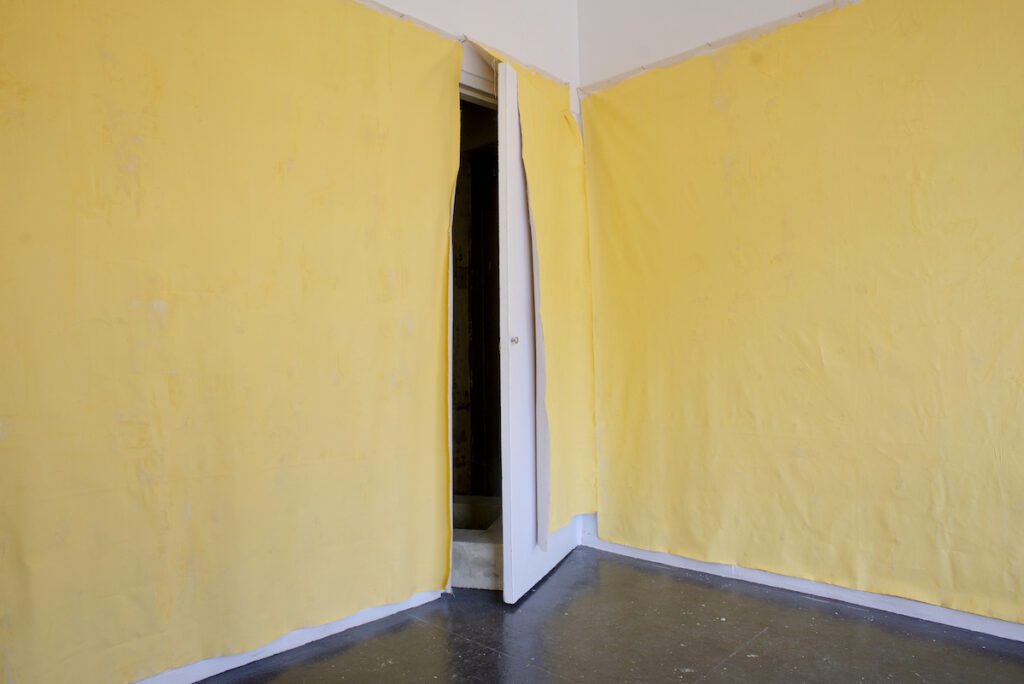 In the foreword text to the exhibition, Luong forms a tender dialogue with his mother, questioning the placelessness after death, where the buoyant ashes of his parents may fare when his family home Ho Chi Minh City, in a future of climate catastrophe, may one day be underwater, as projected in 2021 by the United Nations Intergovernmental Panel on Climate Change, for the year 2050.5 The sensible conversation with Luong's mother revealed a charged present in which After Cataclysm, Before the Storm seemed to embody a particular contemporaneity of Vietnam that falls within the crevice of its poignant past, the resistance, and a precarious future that is unfolding and yet to come. In dealing with this equivocal contemporaneity, Đỗ's confrontation with post-war trauma, Luong's fabrication of regional history, and Toàn's play of a merman all resist a normative reading of regional trauma and diasporic struggles. Through a careful interplay of intimate tales vis-à-vis their regional and historical ruptures, the artists erected a Trans-Pacific portal that established a turbulent loop of trauma, healing, and hope eerily close to the present, while staying speculative of a future approaching with rapid cadence.
Excerpted from the epilogue texts in Nothing Belongs to Us, 2022 by Vicky Đỗ.
Interpretations and excerpts from a virtual studio visit with the artist, April 23, 2023.
Angel L. Martínez Cantera, " 'We are jobless because of fish poisoning': Vietnamese fishermen battle for justice,"The Guardian, August 14, 2017, https://www.theguardian.com/global-development/2017/aug/14/vietnamese-fishermen-jobless-fish-poisoning-battle-justice.
 Original: Thuyên, Nhã, "Taste of Water," AJAR Volume no. 4, (2016), 147. Translation: Thuyên, Nhã, "Taste of Water," Translated by Kaitlin Rees, Poetry International, 2022, https://www.poetryinternational.com/en/poets-poems/poems/poem/103-30493_V-N-C.
 Michael Oppenheimer and Bruce C. Glavovic, Special Report: Special Report On The Ocean And Cryosphere In A Changing Climate: Sea Level Rise and Implications for Low-Lying Islands, Coasts and Communities (Cambridge: Cambridge University Press, 2021), https://www.ipcc.ch/srocc/chapter/chapter-4-sea-level-rise-and-implications-for-low-lying-islands-coasts-and-communities/.
After Cataclysm, Before the Storm ran from April 1 – 27, 2023 at Whippersnapper Gallery in partnership with Gallery TPW, in Toronto, ON.
Feature Image: Conscription Pictures, 2022 by Alvin Luong. Photo by Henry Chan courtesy of the artist and Gallery TPW.