Follow Architect turtle through a world of wonders: Mikaela Kautzky at nap
31 August 2023
By Stephanie Wu
made for, by, and in my garden :,), a solo exhibition by Vancouver-based artist Mikaela Kautzky, was especially memorable for the care taken in the placement of its contents. To enter the show in a small project space called nap, visitors had to traverse through an apartment in the basement level of a house in Vancouver's Commercial Drive neighbourhood. In the room to the right of the entrance, the fluorescent lighting and low ceilings of the bedroom-turned-gallery-space welcomed viewers, which felt somewhat ironic considering the show's title, which referenced a garden. The confined space made me feel as if I had eaten the enlarging 'Eat Me' cake from Alice in Wonderland, a feeling which created a notion of enchantment that continued on throughout Kautzky's show.
On entry, I encountered many works in this claustrophobic space, including If u design it well even the bugs will scrimmage (2022), which felt like a good introduction to the others that came after. The work resembled what felt to me like a combination of an aerial view of a superimposed basketball court and a disproportionately-sized scene of an eye looking at magnified bugs. Through clever use of distinctive colours, shapes, and perspective, Kautzky had created a space that was simultaneously compressed and deconstructed, yet dynamic.
To the left sat Architect turtle (2022), a stand-alone mosaic turtle leaned against the wall. By bringing the visual focus down from traditional gallery-standard height, Architect turtle invited the viewers to assume a different physical position, thus expanding the perceived scale of the space. This clever play of levels was also a successful way to reconnect the gallery space to its domestic setting. The exhibition text also mentioned that Architect turtle is a fictional character whose job is to design a playground for all the inhabitants of the garden. Using this narrative felt like a wholesome approach to exploring the organic function of a garden as a locus of growth, creation, and gathering. All of the works in the exhibition were made in proximity to this playfully material gesture from the artist, with a mixed-media, collage-like quality inhabiting the surfaces, and whether they were painting or sculptures, the works all felt like they could be at home in Kautzky's imagined garden.
The works were also imbued with a spirit of rebelliousness that pushed the imaginative narrative forward, inviting visitors to view the works from a place of whimsy and carefreeness, although some pieces were more abstract than others when it came to the artist's logic behind the material selection. Lawn Boy (2023) was formally a much more abstract piece, consisting of a large stretcher donning hand-dyed sheets sewn and stretched as a base instead of the traditional canvas or linen. Transparent Lawn-Boy branded soil bags, secured together with packing tape, held a combination of organic material, drawings, and found and collaged materials in the shapes of hearts and clovers, all placed on top of the stretched bedsheet layer. The placement of this piece next to Architect turtle was well-considered, since the organic brown residue on the soil bags, in combination with their plastic materiality, equally complimented the visual interest of the heavier materials that made up Architect turtle.
The Lawn Boy bags, coloured shapes, and found materials such as bread clips, also made an appearance in the nearby installed Greenhouse (2023). The two works combined created a physical separation in nap's space, and alluded to the experience of passing through the entrance of a DIY greenhouse that is playfully built and decorated with recycled materials available in its vicinity. In retrospect, this could also have been a part of the reason Architect turtle was placed on the ground (to further mimic the use of mosaic tiles stepping stones often found in domestic gardens). In my opinion, Greenhouse was an unassuming, but very successful, piece that held the entire space together through its suggestion of a pattern of movement to the gallery visitor. Greenhouse also sported cutouts of the same blurry images present in a work sitting directly behind it—Fast flowers (2023).
Fast flowers used blurred images of flowers with raw edges that were collaged together to create an effect of depth, movement, and a distorted sense of time—a Richter-esque technique that I would like to call "the moving still." This was then contrasted with a found strip of 35mm film. The images on the strip were no longer recognizable (a stripped strip of film!), and left only residue to mirror the black hollyhocks in the imagery of the cut-up photographs in the collage, and the rubbing to its right. Staples bound the strip to the background, giving it wobbly legs and antennas, thus transforming the inert material to resemble a caterpillar walking amongst a bed of flowers. A decorative artist frame summarized the composition in a cohesive photographic object.
A bug from Fast flowers reappeared in the work 14th and mosaic street (2023). This piece was placed inside a concave space that originally acted as a closet. The imagery was much more figurative, and there was a swiping transition between the two neighbouring works as respective scenes (think of a cheesy video). The rock-like shapes that made up the bug's body clashed with blood red lips and long, spidery lashes, aggressive downward strokes and blazing sun mixed in a hint of nervousness to this child-like drawing.
Feeling overwhelmed by the content, I rounded back to Greenhouse for a space of rest before carrying on towards the rest of the exhibition. It was then that I noticed that the images taped onto the soil bag meant much more than I had initially realized. The lighthearted, material-focused nature was rich with visual information too, similar to Hermit crab clothing swap (2022), which filled my mind with information yet again, and my eyes did not know where to land first. Visually jam packed, Hermit crab clothing swap illustrated hermit crabs coming out of, or travelling into, an ear. To me this suggested, for the first and only time across all the works, that a story was possibly being told to the artist, rather than being constructed and told by the artist. Behind the ear canal a vast galaxy formed, and featured several playfully drawn stars and a planet with a large ring. It could have been Saturn, but I've recently found out that Jupiter, Neptune, and Uranus also have rings. A baseball card surrounded by coloured star stickers and scribbles made on sunflower petals rounded out the composition. Compared to the hyper-figurative elements of the painting, the galaxy's mystery and lack of context gave much to explore without feeling weighed down by the pressure to analyze at a more conceptual level. By presenting multiple snippets of seemingly incoherent narratives, viewers were given a chance to relax and think about the images in a more organic fashion that was similar to having casual conversations, or parsing through dreams and loose thoughts.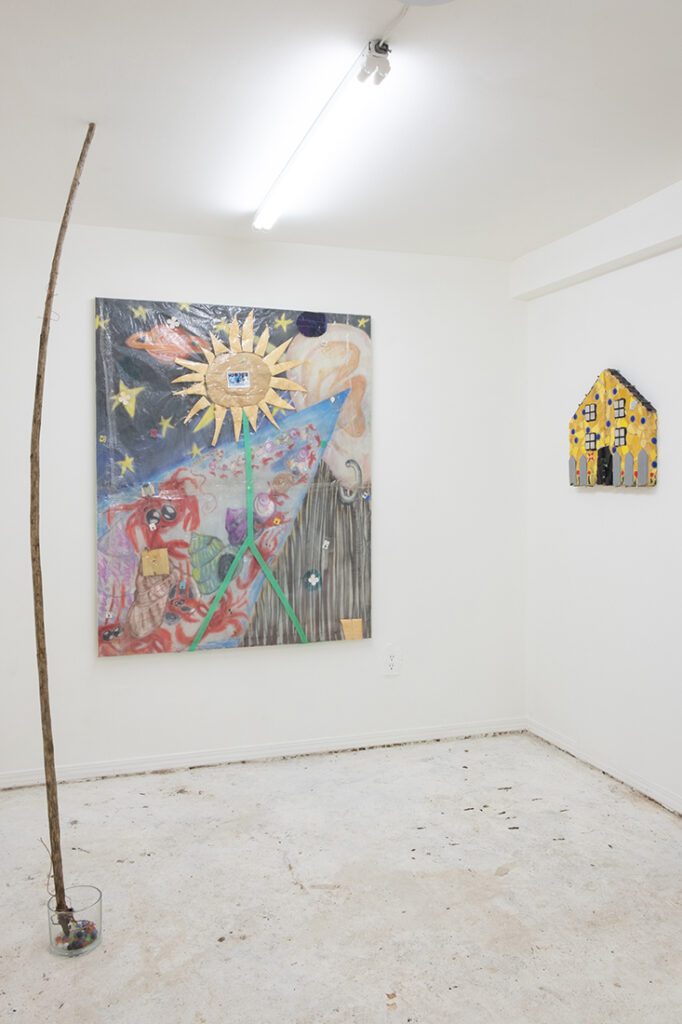 The journey of cohesive aesthetics, spatially aware exhibition design, and world building ended with Yellow house (2022). This piece grounded viewers through an image with fewer layers than the previous works, and was similar to Architect turtle through their common materiality. Kautzky's playful resourcefulness showed itself again in Yellow house's screw mount, abstracted flowers, and marbles. At first glance it was a common white picket fence house, except the fences weren't white. I wondered for a moment if it was an effort to imitate shading, but based on Kautzky's deliberate choice to create this piece as a flat surface, it allowed some space for intuition and imagination.
Overall, I felt more than appreciative of this exhibition. Despite being located inside, which is contrary to the exhibition's title, Kautzky's exhibition successfully transformed the room to resemble a garden space. The imaginative structuring and carefully considered installation of the works really added to the narratives of the individual pieces; it felt dynamic, poetic, while also being a lot to take in. The show lives in its own universe, only to be shared with those who visited. By utilizing familiar household garden objects and materials as physical reminders within a non-linear narrative, made for, by, and in my garden :,) triggered nostalgia for both the past and present. It offered an experience of simple joy with a renounced ego. While it wasn't a groundbreaking exhibition in the sense that it proposed mind-blowing theories or posed majorly impactful questions, I walked away wanting more. Kautzky's show left me with a sense of childlike content and happiness, while simultaneously making me feel like an ant in a greenhouse—an emotional response that will be staying with me for a long time.
made for, by, and in my garden :,) by Mikaela Kautzky ran from February 16 – March 31, 2023 at nap in Vancouver, BC.
Feature Image: Installation view (left to right) Greenhouse, 2023; Fast flowers, 2023 by Mikaela Kautzky. Photo by Benny Xu courtesy of nap.